Addiction Raw Dehydrated Cat Food Review
Wild Brushtail & Berries Entree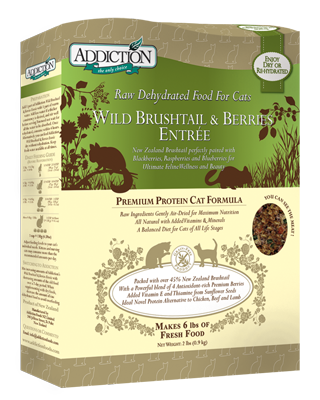 Review of Addiction Raw Dehydrated Cat Food
Wild Brushtail & Berries Entree
This product is manufactured by Addiction Foods LLC.
According to our data, this Addiction recipe provides complete & balanced nutrition for all life stages. In other words, this formula is AAFCO approved.
Addiction Raw Dehydrated Cat Food Wild Brushtail & Berries Entree is formulated to meet the nutritional levels established by the AAFCO Cat Food Nutrient Profiles for all life stages.
Ingredient Review
We'll begin this review of Addiction Raw Dehydrated Cat Food Wild Brushtail & Berries Entree with a detailed discussion of the ingredients.
The first ingredient is brushtail. Brushtail is an excellent novel protein source. However, raw brushtail contains more than 60% moisture. After cooking, the relative meat contribution of brushtail is dramatically reduced. Therefore, it's important to ensure that other meat sources are included within the first few ingredients to ensure the product derives most of its protein from meat.
The second ingredient is potato. Potatoes are commonly used in pet food as a gluten free carbohydrate source which also provides various vitamins, minerals, and antioxidants.
The third ingredient is canola oil. The usage of canola oil is controversial in cat food. Canola plant seeds are the product of selective breeding applied to rapeseed, which in turn is used to produce rapeseed oil. It is widely known that rapeseed oil is dangerous for human and animal consumption.
The fourth ingredient is papaya. Papaya is a healthy exotic fruit. It's an excellent source of dietary fiber, vitamins, and minerals.
The fifth ingredient is carrot. Carrots are naturally rich in many vitamins and minerals.
Because ingredients are listed in order of pre-cooked weight, the remaining ingredients in Addiction Raw Dehydrated Cat Food Wild Brushtail & Berries Entree are not as important as the first five ingredients.
However, collectively they still have a significant impact on the overall quality of the product. Therefore, we'll continue discussing the remaining ingredients in this Addiction recipe.
Next we have tapioca. Tapioca is a gluten-free starch extracted from cassava roots. Starch is a necessary component in producing kibble and tapioca is an excellent choice in this regard.
The remaining ingredients in this Addiction Raw Dehydrated Cat Food recipe are unlikely to affect the overall rating of the product.
Our analysis of the ingredients show that this product derives a substantial amount of protein from non-meat ingredients. This is an undesirable property because plant based protein often lacks many of the necessary amino acids required by cats. This property is typically found in lower quality products.
Final Thoughts
In summary, we recognize that this product does not contain any artificial colors, artificial preservatives, or anonymous meat ingredients.
The official PawDiet rating for Addiction Raw Dehydrated Cat Food Wild Brushtail & Berries Entree is 2.5 out of 5.