Alpo Meal Helpers Porterhouse & Prime Rib Flavors Review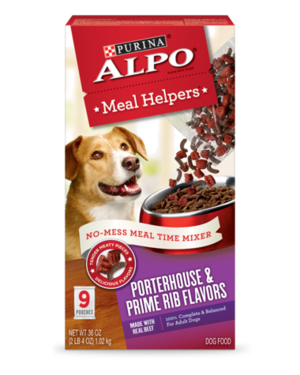 Price Comparison
Updated - Mar 26, 2019
---

Free 2-Day Shipping Available
On Orders $35+
---

12.09 + Shipping (By Weight)
Free Shipping On Orders $25+
---

Existing Customers
Free Shipping Orders $49+

9.13 + Shipping ($4.95)
$6.39

NEW Customers w/ AutoShip
Free 1-2 Day Shipping Orders $49+
30% Off First Auto-Ship

Free 2-Day Shipping Available
On Orders $35+

9.13 + Shipping (By Weight)
Free Shipping On Orders $25+
Review of Alpo Meal Helpers
Porterhouse & Prime Rib Flavors
Controversial Ingredients
By-products are defined by AAFCO as the "non-rendered, clean parts, other than meat, derived from slaughtered mammals." Thus, meat by-products contain nearly all parts of the animal which are typically not consumed by humans. These parts include the liver, lung, spleen, kidney, stomach, blood, intestine, bone, etc.
This ingredient is marked controversial because the meat source is not identified. Anonymous ingredients such as meat by-products are typically very low quality additions. The most unpleasing property of this ingredient is that the animal source can contain any mammal, even dogs & cats.
Soybean flour contains more than 50% protein. Therefore, soybean can significantly boost the protein content of the product. The inclusion of non-meat protein typically degrades the overall quality of protein in the recipe. This degradation is due to the inferior amino acid profile of plant based proteins.
High fructose corn syrup is a sweetener made from corn starch which has been processed to convert glucose into fructose. High fructose corn syrup is simply an unhealthy sweetener used to improve the taste of low quality pet food. This ingredient does not provide any nutritional value.
Animal fat is a by-product of tissue rendering. The source animal is not specific and therefore we cannot be certain that the source does not include diseased animals or even euthanized dogs and cats.
Corn syrup is made from corn starch and it's typically used as a thickener, sweetener, and humectant (keeps the product moist). It's considered controversial because it can raise a dog's blood sugar to unhealthy levels. Of course this concern may be nullified if the syrup is used in very small quantities.
Harmful Ingredients
Red 40 is the most widely used artificial dye in consumer goods. Studies have shown that red 40 may accelerate the appearance of immune-system tumors in mice, cause allergy-like reactions and trigger hyperactivity in children.
Ethoxyquin is an artificial preservative with possible links to cancer and other chronic diseases. Ethoxyquin is not permitted in the European Union and Australia, but considered safe by the FDA.
Yellow 5 is an artificial dye which may be contaminated with several cancer-causing chemicals. Like other dyes, yellow 5 does not provide any nutritional value.
Blue 2 is an artificial dye which can increase the likelihood of tumors according to the Center for Science in the Public Interest. Like other dyes, blue 2 does not provide any nutritional value.
Menadione sodium bisulfite complex is a synthetic version of vitamin K that has been linked to many health concerns. Research has suggested possible toxic reactions in liver cells and red blood cells among other serious problems. In fact, one large chemical supplier warns, "The substance is toxic to kidneys, lungs, liver, mucous membranes. Repeated or prolonged exposure to the substance can produce target organs damage."