Beneful Break-N-Bites Crunchy With Real Chicken & Sweet Potatoes Review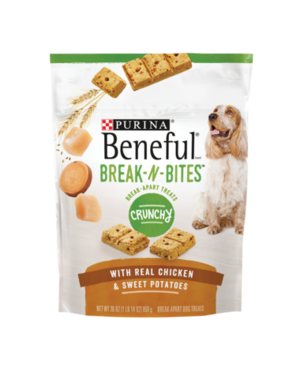 Price Comparison
Updated - Mar 26, 2019
---

18.84 + Shipping (By Weight)
Lower Price $18.83 + Shipping
Available From 3rd-Party Seller
Review of Beneful Break-N-Bites Crunchy
With Real Chicken & Sweet Potatoes
Ingredient Review
The first ingredient is wheat flour. Wheat flour is produced by grinding uncooked wheat into a powder. In addition to dietary fiber, wheat flour provides various vitamins, minerals, and plant based protein.
Wheat is considered a controversial ingredient because of it's protein content. Plant based proteins degrade the overall protein quality in the product. In addition, many people believe wheat is one of the most common ingredients to cause food allergies or intolerance. However, grains such as wheat are typically low offenders in comparison to certain protein sources such as beef.
The second ingredient is chicken. Although chicken is an excellent protein source, raw chicken contains more than 60% moisture. After cooking, the relative meat contribution of chicken is dramatically reduced. Therefore, it's important to ensure that other meat sources are included within the first few ingredients to ensure the product derives most of its protein from meat.
The third ingredient is sweet potato. Sweet potatoes are a common gluten free carbohydrate source in pet food. In addition to its fiber content, sweet potatoes are an excellent source of beta carotene, an important antioxidant which serves as a precursor to vitamin A.
The fourth ingredient is chicken by-product meal. Chicken by-product meal is produced by cooking chicken by-products using a process called rendering. By-products are defined by AAFCO as the "non-rendered, clean parts, other than meat, derived from slaughtered mammals." Thus, chicken by-products contain nearly all parts of chickens which are typically not consumed by humans. These parts include the liver, lung, spleen, kidney, stomach, blood, intestine, bone, etc.
Like other meat by-products, chicken by-products are considered controversial, mainly because they are inexpensive ingredients which consumers have equated with slaughterhouse waste. However, manufactures and many experts claim that animal by-products are unjustly criticized. Proponents state that "named" by-products, such as chicken by-products, supply many important nutrients required by dogs.
The fifth ingredient is corn gluten meal. Corn gluten meal is a by-product from the production of various corn products (corn starch, corn syrup, etc). It's very high in protein (nearly 60% protein) and therefore can significant boost the protein content of the product. Because plant based proteins such as corn gluten meal are inferior to meat based proteins (lack many essential amino acids), they are not suitable substitutes.
Next we have wheat gluten. Wheat gluten is the main protein of wheat. Although wheat gluten is mostly protein, wheat gluten is considered controversial because it significantly boosts the protein content of the product. This is undesirable because plant based protein does not provide the same amino acid profile as meat based protein.
The next ingredient is animal fat (preserved with mixed tocopherols). Animal fat is a by-product of tissue rendering. The source animal is not specific and therefore we cannot be certain that the source does not include diseased animals or even euthanized dogs and cats.
Then we have powdered cellulose. Powdered cellulose is produced from minuscule pieces of wood pulp and plant fibers. Other than its fiber content, powdered cellulose lacks any nutritional contribution.
Moving on, we have calcium carbonate. Calcium carbonate is a naturally occurring mineral supplement. Although it's often used as a dietary calcium supplement, it can also be used as a preservative or color retainer.
Moving on with this review, we have potassium chloride. Potassium chloride is a potassium supplement.
The next ingredient in this review is salt. Salt is an important mineral for both humans and dogs. Depending on the quantity of salt used (which we cannot determine), salt may or may not be a nutritious addition in the recipe.