Beneful Healthy Smile Review
Dental Twists (Small/Medium)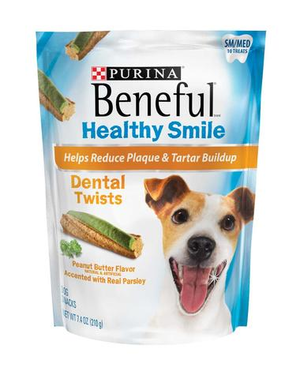 Price Comparison
Updated - Dec 16, 2018
---

Existing Customers
Free Shipping Orders $49+

3.74 + Shipping ($4.95)
$2.49

NEW Customers w/ AutoShip
New Customers w/ Auto-Ship
30% Off + 5% Off / First Time

$10 Off + Free Shipping Orders $60+
Use Code: SAVENOW
---

Free Shipping On Orders 35+
Review of Beneful Healthy Smile
Dental Twists (Small/Medium)
Ingredient Review
The first ingredient is rice. Rice is a gluten-free carbohydrate source. As long as the bran and germ of the grain are intact, rice can provide a notable amount of fiber and nutrition. However, because the type of rice ("brown" or "white") is not specified, we cannot make this determination.
Controversial Ingredients
Wheat gluten is the main protein of wheat. Although wheat gluten is mostly protein, wheat gluten is considered controversial because it significantly boosts the protein content of the product. This is undesirable because plant based protein does not provide the same amino acid profile as meat based protein.
Chicken by-product meal is produced by cooking chicken by-products using a process called rendering. By-products are defined by AAFCO as the "non-rendered, clean parts, other than meat, derived from slaughtered mammals." Thus, chicken by-products contain nearly all parts of chickens which are typically not consumed by humans. These parts include the liver, lung, spleen, kidney, stomach, blood, intestine, bone, etc.
Like other meat by-products, chicken by-products are considered controversial, mainly because they are inexpensive ingredients which consumers have equated with slaughterhouse waste. However, manufactures and many experts claim that animal by-products are unjustly criticized. Proponents state that "named" by-products, such as chicken by-products, supply many important nutrients required by dogs.
Corn germ meal is a high protein by-product of the oil extraction process from corn (maize). It's considered controversial because plant based protein does not contain all of the necessary amino acids required by dogs to sustain life. Therefore substituting corn germ meal protein for meat based protein is an unsuitable substitution and actually degrades the overall protein quality of the product.
Hydrogenated corn syrup is made from corn starch and it's typically used as a thickener, sweetener, and humectant (keeps the product moist). The term hydrogenated means the syrup was treated with hydrogen. It's considered controversial because it can raise a dog's blood sugar to unhealthy levels. Of course this concern may be nullified if the syrup is used in very small quantities.
Animal fat is a by-product of tissue rendering. The source animal is not specific and therefore we cannot be certain that the source does not include diseased animals or even euthanized dogs and cats.
Harmful Ingredients
The ingredient "added color" is ambiguous and may include various artificial dyes. Most artificial dyes have been linked to various chronic diseases.
Yellow 5 is an artificial dye which may be contaminated with several cancer-causing chemicals. Like other dyes, yellow 5 does not provide any nutritional value.
Yellow 6 is an artificial food dye which may be contaminated with cancer-causing chemicals. According to the Center For Science In The Public Interest, yellow 6 can cause adrenal tumors in animals.
Blue 1 is an artificial dye with serious but unconfirmed health concerns. Like other dyes, blue 1 does not provide any nutritional value.
Butylated hydroxyanisole (BHA) is an artificial preservative and possible cancer-causing agent. Studies have show that BHA can be linked to various tumors in laboratory animals.
Butylated hydroxytoluene (BHT) is an artificial preservative and possible cancer-causing agent. BHT is banned in several countries, but the FDA has classified BHT as "generally recognized as safe."