Purina Beyond Purees Review
Natural Beef and Apple Puree With Vitamin A and Zinc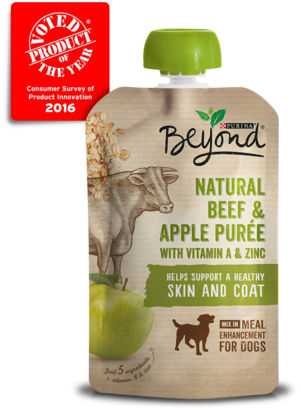 Review of Purina Beyond Purees
Natural Beef and Apple Puree With Vitamin A and Zinc
Ingredient Review
The first ingredient is water. Water of course only provides moisture, a necessary component of wet dog foods.
The second ingredient is beef. Although beef is an excellent protein source, raw beef contains more than 60% moisture. After cooking, the relative meat contribution of beef is dramatically reduced. Therefore, it's important to ensure that other meat sources are included within the first few ingredients to ensure the product derives most of its protein from meat.
The third ingredient is apple. Apples are high in dietary fiber and provide a modest amount of vitamins and minerals.
The fourth ingredient is oatmeal. Oatmeal is simply coarsely ground oats and therefore contains the entire oat grain. As with regular oats, oatmeal is rich in dietary fiber, B vitamins, and various minerals.
The fifth ingredient is brown rice. Brown rice is naturally rich in fiber and various minerals including manganese, phosphorus, and magnesium. Relative to other grains, brown rice is easy to digest.
Next we have vitamin A supplement. Vitamin A is an essential vitamin required by dogs.