Purina Beyond Purees Review
Natural Pumpkin and Oat Puree With Prebiotic Fiber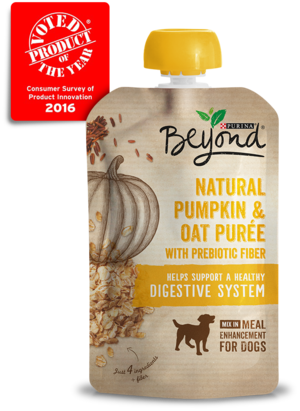 Review of Purina Beyond Purees
Natural Pumpkin and Oat Puree With Prebiotic Fiber
Ingredient Review
The first ingredient is water. Water of course only provides moisture, a necessary component of wet dog foods.
The second ingredient is pumpkin. Pumpkin is an excellent carbohydrate source, rich in dietary fiber and various minerals. It's also rich in beta-carotene, an antioxidant which is a precursor to vitamin A.
The third ingredient is oatmeal. Oatmeal is simply coarsely ground oats and therefore contains the entire oat grain. As with regular oats, oatmeal is rich in dietary fiber, B vitamins, and various minerals.
The fourth ingredient is brown rice. Brown rice is naturally rich in fiber and various minerals including manganese, phosphorus, and magnesium. Relative to other grains, brown rice is easy to digest.