Blue Buffalo Wilderness Bayou Stix Review
With Alligator & Catfish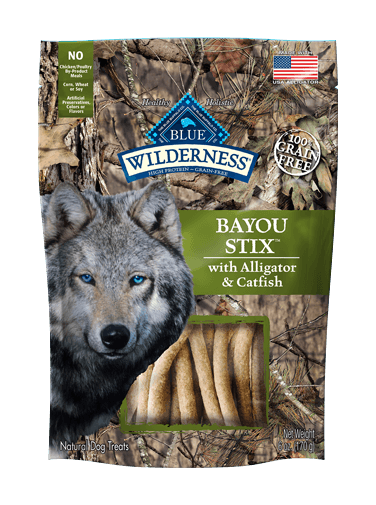 Price Comparison
Updated - Nov 18, 2018
---

Existing Customers
Free Shipping Orders $49+

7.99 + Shipping ($4.95)
$5.31

NEW Customers w/ AutoShip
New Customers w/ Auto-Ship
30% Off + 5% Off / First Time

7.99 + Shipping (By Weight)
Lower Price $7.77 + Shipping
Available From 3rd-Party Seller
Review of Blue Buffalo Wilderness Bayou Stix
With Alligator & Catfish
Ingredient Review
The first ingredient is alligator. Although alligator is an excellent novel protein source, raw alligator contains more than 60% moisture. After cooking, the relative meat contribution of alligator is dramatically reduced. Therefore, it's important to ensure that other meat sources are included within the first few ingredients to ensure the product derives most of its protein from meat.
The second ingredient is fish meal. Fish meal is defined by AAFCO as "the clean, dried, ground tissue of undecomposed whole fish or fish cutting, either or both, with or without the extraction of part of the oil." Since the specific type of fish is not mentioned, we cannot discuss any specific qualities of this ingredient. In general, anonymous ingredients are low quality inclusions when compared to ingredients such as tuna meal, salmon meal, catfish meal, etc.
The third ingredient is potato starch. Potato starch is a gluten-free ingredient extracted from potatoes. Unlike whole potatoes, the starch itself does not provide a notable amount of nutrition.
The fourth ingredient is pea. Peas are starchy members of the legume family. Other than carbohydrates, peas are notably high in plant based protein and various vitamins and minerals.
The fifth ingredient is vegetable glycerin. Vegetable glycerin is a clear, orderless liquid derived from plant oils. It is often used to increase the product's moisture and/or improve palatability.
Next we have chickpea. Chickpeas (also known as garbanzo beans) are an excellent carbohydrate source, naturally rich in dietary fiber and protein.
The next ingredient is gelatin. Gelatin is produced from animal by-products and contains 98% to 99% protein by dry weight. However, gelatin protein is incomplete and lacks many essential amino acids.
Then we have catfish. Catfish is another excellent protein source. As with other raw meats, catfish contains a substantial amount of moisture and therefore the relative meat contribution of catfish is dramatically reduced after cooking.
Moving on, we have flaxseed. Flaxseeds are an outstanding source of omega-3 fatty acids and dietary fiber. They also provide a notable amount of protein, B vitamins, and various minerals.
Moving on with this review, we have natural flavor. Natural flavor enhances the flavor of the product. The difference between natural and artificial flavoring is that natural flavoring starts from a plant or animal whereas artificial flavoring is entirely man-made.
The next ingredient in this review is salt. Salt is an important mineral for both humans and dogs. Depending on the quantity of salt used (which we cannot determine), salt may or may not be a nutritious addition in the recipe.