Cesar Cookie Crunchies Review
Filet Mignon Flavor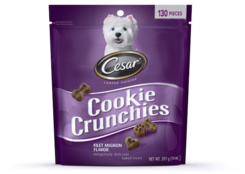 Review of Cesar Cookie Crunchies
Filet Mignon Flavor
Ingredient Review
The first ingredient is wheat flour. Wheat flour is produced by grinding uncooked wheat into a powder. In addition to dietary fiber, wheat flour provides various vitamins, minerals, and plant based protein.
Wheat is considered a controversial ingredient because of it's protein content. Plant based proteins degrade the overall protein quality in the product. In addition, many people believe wheat is one of the most common ingredients to cause food allergies or intolerance. However, grains such as wheat are typically low offenders in comparison to certain protein sources such as beef.
The second ingredient is rice flour. Rice flour is a gluten-free carbohydrate source. As long as the bran and germ of the grain are included in the flour, rice flour can provide a notable amount of fiber and nutrition. However, because the type of rice ("brown" or "white") is not specified, we cannot make this determination.
The third ingredient is corn grits. Corn grits are made from ground corn. Corn is a cereal grain which provides a modest amount of vitamins, minerals, and plant based protein. It also happens to be one of the most controversial ingredients in dog food.
Proponents of corn claim that corn is highly digestible and an excellent source of protein, energy, vitamins, minerals, and essential fatty acids.
Opponents however believe that positive claims in regards to corn are either half-truths or completely false, we'll discuss a few of the opposing arguments.
In regards to digestibility, the claims of "highly digestible" are only true if corn is processed into a meal or flour and subsequently cooked. In regards to the protein contribution, we must note that corn is a plant based protein which does not contain all of the necessary amino acids required by dogs to sustain life. Therefore substituting corn for meat is an unsuitable substitution and actually degrades the overall protein quality of the product.
Finally, we'll discuss the claims about vitamins and minerals in corn. Although corn does provide many vitamins and minerals, it not necessarily an exceptional ingredient in this regards. There are many other ingredients which are more complete and biologically appropriate. Therefore the usage of corn as the primary ingredient in dog food should certainly warrant further questioning.
The fourth ingredient is sugar, which is really an unnecessary additive. It's most likely used to improve the food's palatability.
The fifth ingredient is animal fat (preserved with BHA/BHT). Animal fat is a by-product of tissue rendering. The source animal is not specific and therefore we cannot be certain that the source does not include diseased animals or even euthanized dogs and cats. What's more, this ingredient is preserved with BHA/BHT, both artificial preservatives and possible carcinogens according to the World Health Organization.
Controversial Ingredients
Caramel color is a concentrated form of caramel, a natural food colorant. Caramel color has been linked to cancer in laboratory animals. Since our pets do not care about food color, caramel color is an unnecessary addition with possible health risks.
Harmful Ingredients
Menadione sodium bisulfite complex is a synthetic version of vitamin K that has been linked to many health concerns. Research has suggested possible toxic reactions in liver cells and red blood cells among other serious problems. In fact, one large chemical supplier warns, "The substance is toxic to kidneys, lungs, liver, mucous membranes. Repeated or prolonged exposure to the substance can produce target organs damage."