Grandma Lucy's Tiny Tidbits Review
Pot Roast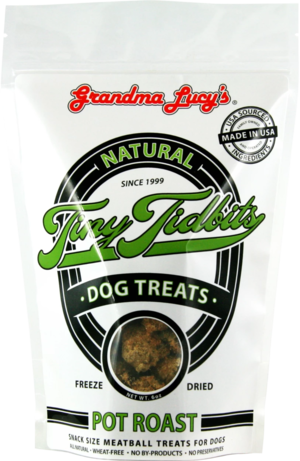 Price Comparison
Updated - Dec 09, 2018
---

Existing Customers
Free Shipping Orders $49+

8.99 + Shipping ($4.95)
$5.98

NEW Customers w/ AutoShip
New Customers w/ Auto-Ship
30% Off + 5% Off / First Time

Free Shipping On Orders 35+

12.32 + Shipping (By Weight)
Lower Price $10.79 + Shipping
Available From 3rd-Party Seller
Review of Grandma Lucy's Tiny Tidbits
Pot Roast
Ingredient Review
The first ingredient is beef. Although beef is an excellent protein source, raw beef contains more than 60% moisture. After cooking, the relative meat contribution of beef is dramatically reduced. Therefore, it's important to ensure that other meat sources are included within the first few ingredients to ensure the product derives most of its protein from meat.
The second ingredient is rice flour. Rice flour is a gluten-free carbohydrate source. As long as the bran and germ of the grain are included in the flour, rice flour can provide a notable amount of fiber and nutrition. However, because the type of rice ("brown" or "white") is not specified, we cannot make this determination.
The third ingredient is carrot. Carrots are an excellent source of dietary fiber and minerals. In addition, carrots are rich in beta carotene, an antioxidant which is a precursor to vitamin A.
The fourth ingredient is potato. Potatoes are commonly used in pet food as a gluten free carbohydrate source which also provides various vitamins, minerals, and antioxidants.
The fifth ingredient is celery. Although celery contains roughly 95% moisture, it's still an excellent source of dietary fiber. Celery also provides a modest amount of vitamins and minerals.
Next we have garlic. Garlic in very small quantities can be an acceptable addition, however, garlic can also be toxic. Therefore many pet owners choose to completely avoid garlic.