Halo Healthsome Review
Protein & Fiber Cat Treats With Real Chicken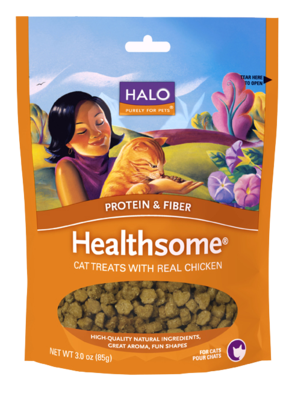 Review of Halo Healthsome
Protein & Fiber Cat Treats With Real Chicken
Ingredient Review
The first ingredient is chicken. Although chicken is an excellent protein source, raw chicken contains more than 60% moisture. After cooking, the relative meat contribution of chicken is dramatically reduced. Therefore, it's important to ensure that other meat sources are included within the first few ingredients to ensure the product derives most of its protein from meat.
The second ingredient is potato flour. Potato flour is a gluten-free carbohydrate source made from whole potatoes. Because the entire potato (including skin) is used, potato flour does provide a notable amount of vitamins and minerals.
The third ingredient is dried ground pea. Dried ground peas are naturally rich in an important antioxidant called beta carotene which is a precursor to vitamin A. Dried peas also provide dietary fiber and a notable amount of plant based protein.
The fourth ingredient is tapioca flour. Tapioca flour is a gluten-free carbohydrate extracted from cassava roots. Carbohydrates are a necessary component in producing kibble and tapioca is an excellent choice in this regard.
The fifth ingredient is chicken fat (preserved with mixed tocopherols). Chicken fat is typically collected while cooking chicken using a process called rendering. Chicken fat is a relatively high quality source of essential fatty acids. In particular, chicken fat is high in linoleic acid, an important omega-6 fatty acid.
Next we have pumpkin. Pumpkin is an excellent carbohydrate source, rich in dietary fiber and various minerals. It's also rich in beta-carotene, an antioxidant which is a precursor to vitamin A.
The next ingredient is pea fiber. Pea fiber is a concentrated dietary fiber source. Fiber can help stabilize blood sugar levels and promote colon health.
Then we have flaxseed. Flaxseeds are an outstanding source of omega-3 fatty acids and dietary fiber. They also provide a notable amount of protein, B vitamins, and various minerals.
Moving on, we have tomato. Tomatoes are naturally rich in various vitamins, minerals, and dietary fiber. You may have heard that tomatoes are toxic to cats, but these claims are about the tomato plant, not the actual tomato.