Halo Spot's Chew - Small/Medium Review
Nutty Banana Flavor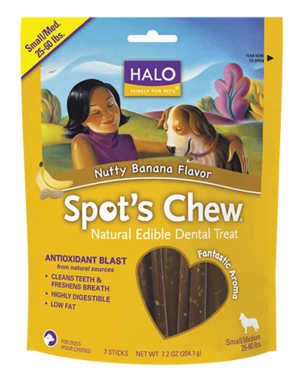 Review of Halo Spot's Chew - Small/Medium
Nutty Banana Flavor
Ingredient Review
The first ingredient is brown rice flour. Brown rice flour is naturally rich in fiber and various minerals including manganese, phosphorus, and magnesium. Relative to other grains, brown rice flour is easy to digest.
The second ingredient is vegetable glycerin. Vegetable glycerin is a clear, orderless liquid derived from plant oils. It is often used to increase the product's moisture and/or improve palatability.
The third ingredient is flaxseed. Flaxseeds are an outstanding source of omega-3 fatty acids and dietary fiber. They also provide a notable amount of protein, B vitamins, and various minerals.
The fourth ingredient is water. Water of course only provides moisture, a necessary component of wet dog foods.
The fifth ingredient is tapioca starch. Tapioca starch is a gluten-free starch extracted from cassava roots. Starch is a necessary component in producing kibble and tapioca is an excellent choice in this regard.
Next we have gelatin. Gelatin is produced from animal by-products and contains 98% to 99% protein by dry weight. However, gelatin protein is incomplete and lacks many essential amino acids.