Iams Purrfect Delicacies Review
Select Cuts With Roasted Chicken Entree In Gravy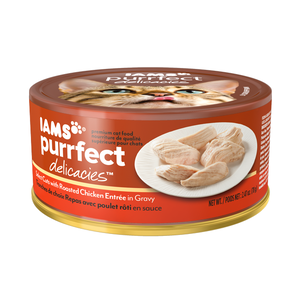 Price Comparison
Updated - Oct 17, 2018
---

Free Shipping On Orders 35+

23.76 + Shipping (By Weight)
Free Shipping On Orders $25+
Review of Iams Purrfect Delicacies
Select Cuts With Roasted Chicken Entree In Gravy
This product is manufactured by Mars Petcare Inc..
Unfortunately, our team has not been able to confirm that this product meets any AAFCO nutrition profiles. We rely on the companies website to provide this information. However, we were not able to find a nutritional adequacy statement on the company's website. We caution owners from feeding non-AAFCO approved products because these products may not contain all of the nutrients required by your cat.
Ingredient Review
We'll begin this review of Iams Purrfect Delicacies Select Cuts With Roasted Chicken Entree In Gravy with a detailed discussion of the ingredients.
The first ingredient is chicken broth. Chicken broth provides both flavor and moisture; however, as with other broths, chicken broth does not provide any notable nutritional contribution.
The second ingredient is chicken. Chicken is the most common meat ingredient used in cat food. It provides high-quality protein and fat. However, more than 60% of chicken is water.
The third ingredient is modified tapioca starch. Tapioca starch is a gluten-free starch extracted from cassava roots. Starch is a necessary component in producing kibble and tapioca is an excellent choice in this regard. The modified term indicates that the tapioca starch has been treated or processed in order to expose or improve some property.
The fourth ingredient is sunflower oil. Sunflower oil is an omega-6 fatty acid source. Unlike other oils (flax, canola, etc), sunflower oil does not provide omega-3 fatty acids; However, the balancing omega-3 fatty acids are most likely supplied by another oil or fat source.
The fifth ingredient is dried egg product. Dried egg product consists of shell-free eggs which are easy to digest and contain high quality protein. Egg protein is often given the highest biological value (BV). The BV metric measures the usability of the ingredient's protein.
Because ingredients are listed in order of pre-cooked weight, the remaining ingredients in Iams Purrfect Delicacies Select Cuts With Roasted Chicken Entree In Gravy are not as important as the first five ingredients.
However, collectively they still have a significant impact on the overall quality of the product. Therefore, we'll continue discussing the remaining ingredients in this Iams recipe.
Next we have pea protein. Pea protein is produced by removing the starchy parts of peas. Pea protein is considered controversial because it provides a substantial plant based protein boost. This boost is undesirable because plant based protein is typically lower in biological value when compared to meat based proteins.
The next ingredient is natural flavor, which enhances the flavor of the food.
The remaining ingredients in this Iams Purrfect Delicacies recipe are unlikely to affect the overall rating of the product.
Our analysis of the ingredients show that this product derives a substantial amount of protein from non-meat ingredients. This is an undesirable property because plant based protein often lacks many of the necessary amino acids required by cats. This property is typically found in lower quality products.
Final Thoughts
In summary, we recognize that this product does not contain any artificial colors, artificial preservatives, or anonymous meat ingredients.
The official PawDiet rating for Iams Purrfect Delicacies Select Cuts With Roasted Chicken Entree In Gravy is 2.0 out of 5.