Meow Mix Savory Morsels With Real Beef In Gravy Review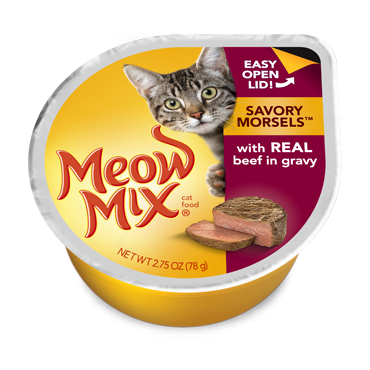 Review of Meow Mix Savory Morsels
With Real Beef In Gravy
This product is manufactured by Big Heart Pet Brands.
According to our data, this Meow Mix recipe provides complete & balanced nutrition for adult cats and growing kittens. In other words, this formula is AAFCO approved.
Meow Mix Savory Morsels With Real Beef In Gravy is formulated to meet the nutritional levels established by the AAFCO Cat Food Nutrient Profiles for adult cats and growing kittens.
Ingredient Review
We'll begin this review of Meow Mix Savory Morsels With Real Beef In Gravy with a detailed discussion of the ingredients.
The first ingredient is fish broth. Fish broth provides both flavor and moisture; however, as with other broths, fish broth does not provide any notable nutritional contribution.
The second ingredient is tuna. Although tuna is an excellent protein source, raw tuna contains more than 60% moisture. After cooking, the relative meat contribution of tuna is dramatically reduced. Therefore, it's important to ensure that other meat sources are included within the first few ingredients to ensure the product derives most of its protein from meat.
The third ingredient is beef. Beef is another excellent protein source. As with other raw meats, beef contains a substantial amount of moisture and therefore the relative meat contribution of beef is dramatically reduced after cooking.
The fourth ingredient is wheat gluten. Wheat gluten is the main protein of wheat. Although wheat gluten is mostly protein, wheat gluten is considered controversial because it significantly boosts the protein content of the product. This is undesirable because plant based protein does not provide the same amino acid profile as meat based protein.
The fifth ingredient is chicken, which is an excellent source of protein and fat.
Because ingredients are listed in order of pre-cooked weight, the remaining ingredients in Meow Mix Savory Morsels With Real Beef In Gravy are not as important as the first five ingredients.
However, collectively they still have a significant impact on the overall quality of the product. Therefore, we'll continue discussing the remaining ingredients in this Meow Mix recipe.
Next we have modified tapioca starch. Tapioca starch is a gluten-free starch extracted from cassava roots. Starch is a necessary component in producing kibble and tapioca is an excellent choice in this regard. The modified term indicates that the tapioca starch has been treated or processed in order to expose or improve some property.
The next ingredient is soybean oil. Soybean oil is an omega-6 fatty acid source. Unlike other oils (flax, canola, etc), soybean oil does not provide omega-3 fatty acids; However, the balancing omega-3 fatty acids are most likely supplied by another oil or fat source in the product.
Then we have dried egg product. Dried egg product consists of shell-free eggs which are easy to digest and contain high quality protein. Egg protein is often given the highest biological value (BV). The BV metric measures the usability of the ingredient's protein.
Moving on, we have caramel color. Caramel color is a concentrated form of caramel, a natural food colorant. Caramel color has been linked to cancer in laboratory animals. Since our pets do not care about food color, caramel color is an unnecessary addition with possible health risks.
Moving on with this review, we have tricalcium phosphate. Tricalcium phosphate is typically used for its mineral contents. However, it can also be used to evenly disperse fat in wet food products.
The next ingredient in this review is calcium sulfate. Calcium sulfate is a food additive that helps control acidity levels and functions as a firming agent. It's not a desirable ingredient, but it is considered safe by the FDA in small quantities.
Our next ingredient is salt. Salt is an important mineral for both humans and cats. Depending on the quantity of salt used (which we cannot determine), salt may or may not be a nutritious addition in the recipe.
natural flavor is the next ingredient in this recipe. Although natural flavor does not provide any nutritional value, it does improve palatability.
Next on the list is guar gum. Guar gum (or guaran) is obtained from guar beans which have been dehusked, milled and screened. It's commonly used in wet food products as a thickening agent and provides a notable amount of dietary fiber.
The remaining ingredients in this Meow Mix Savory Morsels recipe are unlikely to affect the overall rating of the product.
Our analysis of the ingredients show that this product derives most of its protein from animal based sources. This is an excellent property because meat based protein contains all of the necessary amino acids required by cats. In our option, this is one of the most important properties to judge when reviewing pet food, therefore we believe this is an exceptional product in this regard.
Final Thoughts
In summary, we recognize that this product does not contain any artificial colors, artificial preservatives, or anonymous meat ingredients.
The official PawDiet rating for Meow Mix Savory Morsels With Real Beef In Gravy is 4.0 out of 5.