Merrick Backcountry Freeze-Dried Raw Review
Real Beef Recipe Treats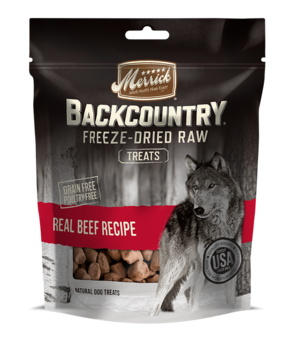 Price Comparison
Updated - Nov 14, 2018
---

Free Shipping On Orders $25+
Review of Merrick Backcountry Freeze-Dried Raw
Real Beef Recipe Treats
Ingredient Review
The first ingredient is beef. Although beef is an excellent protein source, raw beef contains more than 60% moisture. After cooking, the relative meat contribution of beef is dramatically reduced. Therefore, it's important to ensure that other meat sources are included within the first few ingredients to ensure the product derives most of its protein from meat.
The second ingredient is beef liver. Beef liver is an excellent organ meat which provides high quality protein and fat. In addition, beef liver provides many essential vitamins and minerals.
The third ingredient is dried pea. Dried peas are an excellent carbohydrate source, naturally rich in dietary fiber and protein.
The fourth ingredient is dried potato. Dried potatoes are commonly used in pet food as a gluten-free carbohydrate source. In addition to carbohydrates, dried potatoes also supply protein and various vitamins, minerals, and antioxidants.
The fifth ingredient is gelatin. Gelatin is produced from animal by-products and contains 98% to 99% protein by dry weight. However, gelatin protein is incomplete and lacks many essential amino acids.
Next we have salt. Salt is an important mineral for both humans and dogs. Depending on the quantity of salt used (which we cannot determine), salt may or may not be a nutritious addition in the recipe.