Merrick Jerky Chip Treats Review
Real Salmon + Potato Recipe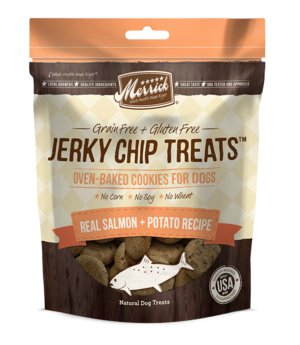 Review of Merrick Jerky Chip Treats
Real Salmon + Potato Recipe
Ingredient Review
The first ingredient is salmon. Although salmon is an excellent protein and omega-3 fatty acid source, raw salmon contains more than 60% moisture. After cooking, the relative meat contribution of salmon is dramatically reduced. Therefore, it's important to ensure that other meat sources are included within the first few ingredients to ensure the product derives most of its protein from meat.
The second ingredient is beef. Beef is another excellent protein source. As with other raw meats, beef contains a substantial amount of moisture and therefore the relative meat contribution of beef is dramatically reduced after cooking.
The third ingredient is dried potato. Dried potatoes are commonly used in pet food as a gluten-free carbohydrate source. In addition to carbohydrates, dried potatoes also supply protein and various vitamins, minerals, and antioxidants.
The fourth ingredient is pea. Peas are starchy members of the legume family. Other than carbohydrates, peas are notably high in plant based protein and various vitamins and minerals.
The fifth ingredient is garbanzo bean. Garbanzo beans (also known as chickpeas) are an excellent carbohydrate source, naturally rich in dietary fiber and protein.
Next we have tapioca starch. Tapioca starch is a gluten-free starch extracted from cassava roots. Starch is a necessary component in producing kibble and tapioca is an excellent choice in this regard.
The next ingredient is pea fiber. Pea fiber is a concentrated dietary fiber source. Fiber can help stabilize blood sugar levels and promote colon health.
Then we have olive oil. As in humans, olive oil provides numerous health benefits in dogs.
Controversial Ingredients
Caramel color is a concentrated form of caramel, a natural food colorant. Caramel color has been linked to cancer in laboratory animals. Since our pets do not care about food color, caramel color is an unnecessary addition with possible health risks.