Natural Balance Dental Chews Review
Pumpkin & Chicken Meal Formula With Papaya - Small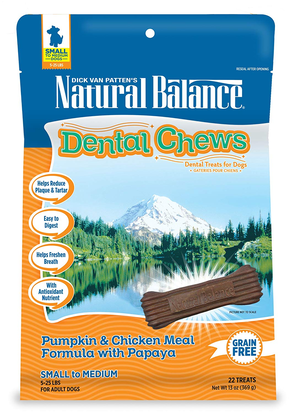 Review of Natural Balance Dental Chews
Pumpkin & Chicken Meal Formula With Papaya - Small
Ingredient Review
The first ingredient is pumpkin. Pumpkin is an excellent carbohydrate source, rich in dietary fiber and various minerals. It's also rich in beta-carotene, an antioxidant which is a precursor to vitamin A.
The second ingredient is potato starch. Potato starch is a gluten-free ingredient extracted from potatoes. Unlike whole potatoes, the starch itself does not provide a notable amount of nutrition.
The third ingredient is chicken meal. Chicken meal is produced by cooking chicken using a process called rendering. The rendering process dramatically reduces the natural moisture of chicken and thereby results in a highly condensed protein source.