Nature's Variety Prairie All Natural Oven-Baked Biscuits Review
With Chicken & Cheddar Cheese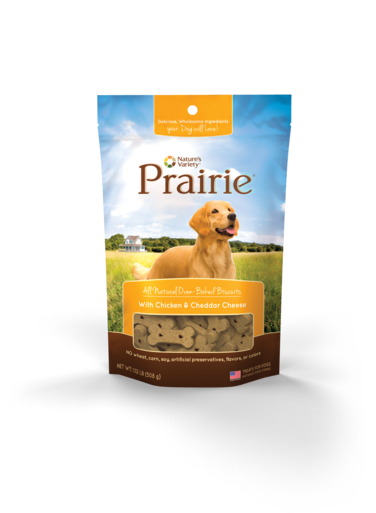 Review of Nature's Variety Prairie All Natural Oven-Baked Biscuits
With Chicken & Cheddar Cheese
Ingredient Review
The first ingredient is oatmeal. Oatmeal is simply coarsely ground oats and therefore contains the entire oat grain. As with regular oats, oatmeal is rich in dietary fiber, B vitamins, and various minerals.
The second ingredient is barley. Barley is a nutritious carbohydrate source, naturally rich in dietary fiber and various minerals. Unlike pearled barley, regular barley contains the entire grain.
The third ingredient is tapioca. Tapioca is a gluten-free starch extracted from cassava roots. Starch is a necessary component in producing kibble and tapioca is an excellent choice in this regard.
The fourth ingredient is chicken. Although chicken is an excellent protein source, raw chicken contains more than 60% moisture. After cooking, the relative meat contribution of chicken is dramatically reduced. Therefore, it's important to ensure that other meat sources are included within the first few ingredients to ensure the product derives most of its protein from meat.