Primal Raw Frozen Mixes Review
Lamb Mix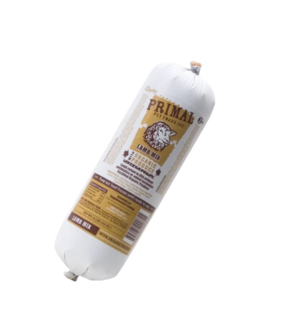 Review of Primal Raw Frozen Mixes
Lamb Mix
Ingredient Review
The first ingredient is lamb heart. Lamb hearts are full of high quality protein and fat. Lamb hearts also provide a notable amount of vitamins and minerals.
The second ingredient is lamb liver. Organ meats like lamb liver are an excellent source of protein, fat, and essential vitamins and minerals. Although organs may not sound appealing, organs are an important component of a carnivorous animal's diet.
The third ingredient is ground lamb bone. Ground lamb bones are an excellent source of calcium and phosphorus.
The fourth ingredient is organic collard green. Organic collard greens are leafy vegetables which pack in an impressive amount of manganese, vitamin A, vitamin C, and vitamin K. As with other leafy vegetables, collard greens also provide a notable amount of dietary fiber.
The fifth ingredient is organic squash. Organic squash is an excellent source of dietary fiber, vitamins, and minerals.