Solid Gold Tiny Tots Lamb Recipe Review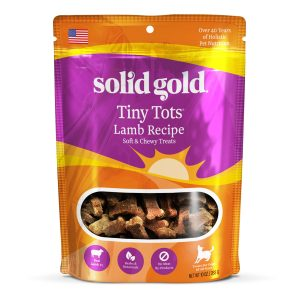 Review of Solid Gold Tiny Tots
Lamb Recipe
Ingredient Review
The first ingredient is lamb. Although lamb is an excellent protein source, raw lamb contains more than 60% moisture. After cooking, the relative meat contribution of lamb is dramatically reduced. Therefore, it's important to ensure that other meat sources are included within the first few ingredients to ensure the product derives most of its protein from meat.
The second ingredient is brown rice. Brown rice is naturally rich in fiber and various minerals including manganese, phosphorus, and magnesium. Relative to other grains, brown rice is easy to digest.
The third ingredient is oats. Oats are an excellent carbohydrate source with considerable nutrients in addition to dietary fiber. More specifically, oats are rich in B vitamins and various minerals including manganese.
The fourth ingredient is lamb meal. Lamb meal is produced by cooking lamb using a process called rendering. The rendering process dramatically reduces the natural moisture of lamb and thereby results in a highly condensed protein source.
The fifth ingredient is tapioca starch. Tapioca starch is a gluten-free starch extracted from cassava roots. Starch is a necessary component in producing kibble and tapioca is an excellent choice in this regard.
Next we have lamb liver. Lamb liver is an excellent organ meat which provides high quality protein and fat. In addition, lamb liver provides many essential vitamins and minerals.
Controversial Ingredients
Garlic powder in very small quantities can be an acceptable addition, however, garlic can also be toxic. Therefore many pet owners choose to completely avoid garlic.