Get

35% OFF

Today

—

Chewy.com
Limited Time

—

35% OFF + Free Shipping

—

Chewy.com

Pro Pac Dog Food Ingredients
---
According to our research, Pro Pac manufactures 18 dog food recipes using 93 unique ingredients. To evaluate the quality of ingredients used by Pro Pac, we've studied all 93 ingredients. In this article, we'll share our findings on Pro Pac ingredients.
| | |
| --- | --- |
| Dog Food Recipes | 18 |
| Unique Ingredients | 93 |
| Artificial Colors | 3 |
| Animal By-Products | 0 |
| Anonymous Meats | 2 |
| Controversial | 9 |
| Harmful | 5 |
First 5 Ingredients
Dog food ingredients in the United States are listed in descending order of pre-cooked weight. The first 5 ingredients typically constitute a significant portion of the recipe.
For Pro Pac, these are the most common ingredients found within the first 5 dog food ingredients.
chicken meal
brown rice
white rice
pea
rice bran
As you can see, the most common first ingredient in Pro Pac is chicken meal. The most common 2nd ingredient is brown rice, followed by white rice, pea, and rice bran.
Artificial Food Coloring Dyes
Our records indicate that Pro Pac does use artificial food coloring dyes. More specifically, we've identified 3 artificial food dyes used by Pro Pac.
Although these food dyes are classified as Generally Recognized As Safe (GRAS) by the FDA, we recommend avoiding them when possible.
According to the Center For Research In The Public Interest (CSPI), there are many potential health risks associated with the consumption of artificial food coloring dyes.
Given that most pets consume the same products for prolonged periods of time, these concerns should be taken seriously. In general, we recommend pet owners avoid feeding products which contain artificial food coloring dyes.
For more information regarding the CSPI's findings, read our artificial food coloring article.
Red 40 is the most widely used artificial dye in consumer goods. Studies have shown that red 40 may accelerate the appearance of immune-system tumors in mice, cause allergy-like reactions and trigger hyperactivity in children.
The following recipes contain red 40:
Yellow 5 is an artificial dye which may be contaminated with several cancer-causing chemicals. Like other dyes, yellow 5 does not provide any nutritional value.
The following recipes contain yellow 5:
Blue 1 is an artificial dye with serious but unconfirmed health concerns. Like other dyes, blue 1 does not provide any nutritional value.
The following recipes contain blue 1:
Animal By-Products
According to our records, Pro Pac does not contain any animal by-products.
Animal by-products are basically the leftover parts of the the carcass after its been processed for meat. AAFCO defines by-products as the non-rendered, clean parts, other than meat, derived from slaughtered mammals.
Although by-products are still fairly nutritious ingredients, consumers have equated them with slaughterhouse waste. Therefore, most premium brands, including Pro Pac have decided to remove by-products and instead use named organ meats (beef liver, chicken gizzards).
For further reading on the controversy over animal by-products, click here.
Anonymous Meat Ingredients
Anonymous meats are animal-based ingredients which do not provide the source animal's name. These ingredients are controversial because they can come from almost any animal.
In addition, anonymous animal-based ingredients are very inexpensive and often the lowest quality meats that are still allowed to be used in pet food.
In general, we do not recommend feeding any products which contain anonymous meats. When in doubt, always contact the brand's customer service desk for further clarification.
Unfortunately, we've identified 2 anonymous meat ingredients used by Pro Pac.
The following recipes contain d-activated animal sterol:
Meat meal is produced by cooking meat using a process called rendering. The rendering process dramatically reduces the natural moisture of meat and thereby results in a highly condensed protein source.
This ingredient is marked controversial because the source animal for the meat is not specified. These type of anonymous ingredient are typically very low quality and certainly inexpensive additions. The most unpleasing property of this ingredient is that the meat source can contain any mammal, even dogs & cats.
The following recipes contain meat meal:
Controversial Ingredients
In most cases, ingredients which are given the controversial classification can be substituted with higher-quality alternatives. You should evaluate each controversial ingredient independently to see if there is truly a valid cause for concern.
Keep in mind, certain sacrifices often must be made to produce dog foods at a reasonable price. In general, the more expensive the product, the fewer controversial ingredients you'll find.
In our analysis, we've identified 9 controversial ingredients inside Pro Pac products. These controversial ingredients are listed below. Click on each ingredient for more information.
Potentially Harmful Ingredients
Harmful ingredients are those which have been linked to adverse health effects. In general, we do not recommend feeding any product which contains any harmful ingredients.
There are certain situations where these ingredients may be necessary. We always recommend contacting Pro Pac for further clarification regarding any harmful or controversial ingredient.
We have identified 5 harmful ingredients used in certain Pro Pac recipes. To learn more, click on the ingredient's name.
Pro Pac Dog Food Ingredient Lists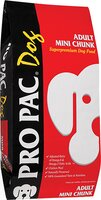 Pro Pac
Super Premium
Adult Mini Chunk For Dogs
Pro Pac
Super Premium Adult Mini Chunk For Dogs
First Five Ingredients
chicken meal
ground yellow corn
chicken fat
rice flour
dried beet pulp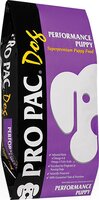 Pro Pac
Super Premium
Performance Puppy
Pro Pac
Super Premium Performance Puppy
First Five Ingredients
chicken meal
ground yellow corn
chicken fat
dried beet pulp
dried egg product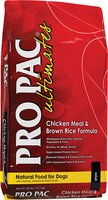 Pro Pac
Ultimates
Chicken Meal & Brown Rice Formula For Dogs
Pro Pac
Ultimates Chicken Meal & Brown Rice Formula For Dogs
First Five Ingredients
chicken meal
brown rice
white rice
rice bran
pea
Pro Pac
Ultimates
Chicken Meal & Brown Rice Formula For Large Breed Dogs
Pro Pac
Ultimates Chicken Meal & Brown Rice Formula For Large Breed Dogs
First Five Ingredients
chicken meal
brown rice
white rice
pea
rice bran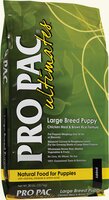 Pro Pac
Ultimates
Chicken Meal & Brown Rice Formula For Large Breed Puppies
Pro Pac
Ultimates Chicken Meal & Brown Rice Formula For Large Breed Puppies
First Five Ingredients
chicken meal
brown rice
white rice
pea
rice bran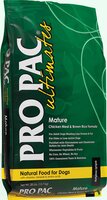 Pro Pac
Ultimates
Chicken Meal & Brown Rice Formula For Mature Dogs
Pro Pac
Ultimates Chicken Meal & Brown Rice Formula For Mature Dogs
First Five Ingredients
chicken meal
brown rice
white rice
pea
rice bran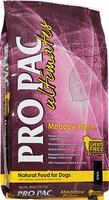 Pro Pac
Ultimates Grain Free
Meadow Prime
Pro Pac
Ultimates Grain Free Meadow Prime
First Five Ingredients
lamb meal
potato
pea
chickpea
canola oil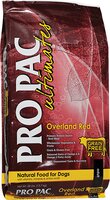 Pro Pac
Ultimates Grain Free
Overland Red
Pro Pac
Ultimates Grain Free Overland Red
First Five Ingredients
beef meal
potato
pea
chickpea
canola oil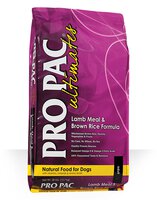 Pro Pac
Ultimates
Lamb Meal & Brown Rice Formula For Dogs
Pro Pac
Ultimates Lamb Meal & Brown Rice Formula For Dogs
First Five Ingredients
lamb meal
brown rice
white rice
pea
rice bran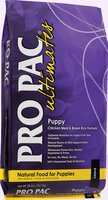 Pro Pac
Ultimates
Chicken Meal & Brown Rice Formula For Puppies
Pro Pac
Ultimates Chicken Meal & Brown Rice Formula For Puppies
First Five Ingredients
chicken meal
brown rice
white rice
chicken fat
rice bran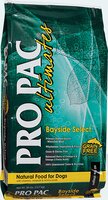 Pro Pac
Ultimates Grain Free
Bayside Select
Pro Pac
Ultimates Grain Free Bayside Select
First Five Ingredients
whitefish meal
potato
pea
chickpea
canola oil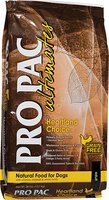 Pro Pac
Ultimates Grain Free
Heartland Choice
Pro Pac
Ultimates Grain Free Heartland Choice
First Five Ingredients
chicken meal
potato
pea
chickpea
chicken fat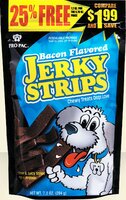 Pro Pac
Jerky Strips
Bacon Flavored
Pro Pac
Jerky Strips Bacon Flavored
First Five Ingredients
meat meal
wheat flour
chicken meal
soybean flour
corn flour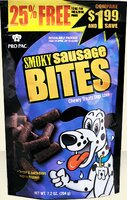 Pro Pac
Sausage Bites
Smoky Sausage Bites
Pro Pac
Sausage Bites Smoky Sausage Bites
First Five Ingredients
meat meal
wheat flour
soybean flour
sugar
chicken fat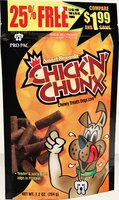 Pro Pac
Smart Rewards
Chick 'N' Chunx
Pro Pac
Smart Rewards Chick 'N' Chunx
First Five Ingredients
chicken meal
wheat flour
soybean flour
sugar
chicken fat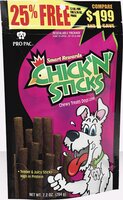 Pro Pac
Smart Rewards
Chick 'N' Sticks
Pro Pac
Smart Rewards Chick 'N' Sticks
First Five Ingredients
chicken meal
wheat flour
soybean flour
corn flour
sugar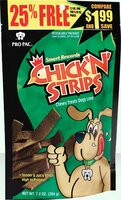 Pro Pac
Smart Rewards
Chick 'N' Strips
Pro Pac
Smart Rewards Chick 'N' Strips
First Five Ingredients
chicken meal
wheat flour
soybean flour
corn flour
sugar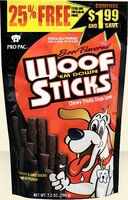 Pro Pac
Woof 'Em Down Sticks
Beef Flavored
Pro Pac
Woof 'Em Down Sticks Beef Flavored
First Five Ingredients
meat meal
wheat flour
chicken meal
soybean flour
corn flour