Get

35% OFF

Today

—

Chewy.com
Limited Time

—

35% OFF + Free Shipping

—

Chewy.com

Purina Pro Plan Dog Food Ingredients
---
According to our research, Purina Pro Plan manufactures 124 dog food recipes using 191 unique ingredients. To evaluate the quality of ingredients used by Purina Pro Plan, we've studied all 191 ingredients. In this article, we'll share our findings on Purina Pro Plan ingredients.
| | |
| --- | --- |
| Dog Food Recipes | 124 |
| Unique Ingredients | 191 |
| Artificial Colors | 2 |
| Animal By-Products | 5 |
| Anonymous Meats | 10 |
| Controversial | 26 |
| Harmful | 7 |
First 5 Ingredients
Dog food ingredients in the United States are listed in descending order of pre-cooked weight. The first 5 ingredients typically constitute a significant portion of the recipe.
For Purina Pro Plan, these are the most common ingredients found within the first 5 dog food ingredients.
chicken
rice
liver
poultry by-product meal
chicken
As you can see, the most common first ingredient in Purina Pro Plan is chicken. The most common 2nd ingredient is rice, followed by liver, poultry by-product meal, and chicken.
Artificial Food Coloring Dyes
Our records indicate that Purina Pro Plan does use artificial food coloring dyes. More specifically, we've identified 2 artificial food dyes used by Purina Pro Plan.
Although these food dyes are classified as Generally Recognized As Safe (GRAS) by the FDA, we recommend avoiding them when possible.
According to the Center For Research In The Public Interest (CSPI), there are many potential health risks associated with the consumption of artificial food coloring dyes.
Given that most pets consume the same products for prolonged periods of time, these concerns should be taken seriously. In general, we recommend pet owners avoid feeding products which contain artificial food coloring dyes.
For more information regarding the CSPI's findings, read our artificial food coloring article.
Yellow 5 is an artificial dye which may be contaminated with several cancer-causing chemicals. Like other dyes, yellow 5 does not provide any nutritional value.
The following recipes contain yellow 5:
The ingredient "added color" is ambiguous and may include various artificial dyes. Most artificial dyes have been linked to various chronic diseases.
The following recipes contain added color:
Animal By-Products
Purina Pro Plan does indeed use animal by-products. More specifically, 5 animal by-product ingredients were found during our analysis of Purina Pro Plan dog food ingredients.
According to AAFCO, by-products are defined as the non-rendered, clean parts, other than meat, derived from slaughtered mammals. In other words, animal by-products are the leftover ingredients that humans typically do not consume (lung, heart, tongue, stomach, intestine, blood, etc).
Many consumers have equated animal by-products with slaughterhouse waste. Animal by-products are still very controversial. Most premium brands have abandoned them in favor of specific named organ ingredients (duck liver, chicken heart, etc).
If you must feed a product with animal by-products, ensure that the specific animal source is specified. In other words, avoid ingredients such as meat by-products or poultry by-products.
Anonymous Meat Ingredients
Anonymous meats are animal-based ingredients which do not provide the source animal's name. These ingredients are controversial because they can come from almost any animal.
In addition, anonymous animal-based ingredients are very inexpensive and often the lowest quality meats that are still allowed to be used in pet food.
In general, we do not recommend feeding any products which contain anonymous meats. When in doubt, always contact the brand's customer service desk for further clarification.
Unfortunately, we've identified 10 anonymous meat ingredients used by Purina Pro Plan.
Controversial Ingredients
In most cases, ingredients which are given the controversial classification can be substituted with higher-quality alternatives. You should evaluate each controversial ingredient independently to see if there is truly a valid cause for concern.
Keep in mind, certain sacrifices often must be made to produce dog foods at a reasonable price. In general, the more expensive the product, the fewer controversial ingredients you'll find.
In our analysis, we've identified 26 controversial ingredients inside Purina Pro Plan products. These controversial ingredients are listed below. Click on each ingredient for more information.
Potentially Harmful Ingredients
Harmful ingredients are those which have been linked to adverse health effects. In general, we do not recommend feeding any product which contains any harmful ingredients.
There are certain situations where these ingredients may be necessary. We always recommend contacting Purina Pro Plan for further clarification regarding any harmful or controversial ingredient.
We have identified 7 harmful ingredients used in certain Purina Pro Plan recipes. To learn more, click on the ingredient's name.
Purina Pro Plan Dog Food Ingredient Lists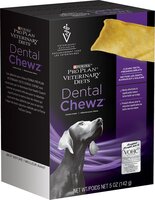 Purina Pro Plan
Veterinary Diets
Dental Chewz Canine Treats
Purina Pro Plan
Veterinary Diets Dental Chewz Canine Treats
First Five Ingredients
beef hide
maltodextrin
animal digest
hydrolyzed corn protein
potassium sorbate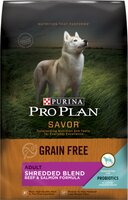 Purina Pro Plan
Savor Grain Free
Shredded Blend Beef & Salmon Formula For Adult Dogs
Purina Pro Plan
Savor Grain Free Shredded Blend Beef & Salmon Formula For Adult Dogs
First Five Ingredients
beef
chicken meal
lentil flour
canola meal
beef fat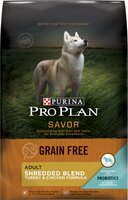 Purina Pro Plan
Savor Grain Free
Shredded Blend Turkey & Chicken Formula For Adult Dogs
Purina Pro Plan
Savor Grain Free Shredded Blend Turkey & Chicken Formula For Adult Dogs
First Five Ingredients
turkey
chicken meal
lentil flour
canola meal
beef tallow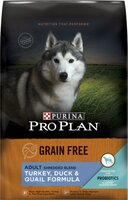 Purina Pro Plan
Grain Free Shredded Blend
Turkey, Duck & Quail Formula For Adult Dogs
Purina Pro Plan
Grain Free Shredded Blend Turkey, Duck & Quail Formula For Adult Dogs
First Five Ingredients
turkey
chicken meal
lentil flour
canola meal
pea protein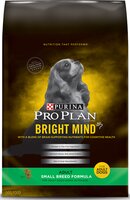 Purina Pro Plan
Bright Mind
Small Breed Formula For Adult Dogs
Purina Pro Plan
Bright Mind Small Breed Formula For Adult Dogs
First Five Ingredients
chicken
whole grain corn
poultry by-product meal
brewers rice
corn gluten meal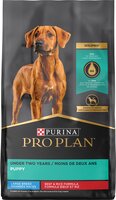 Purina Pro Plan
Development
Large Breed Beef & Rice Formula For Puppies Under Two Years
Purina Pro Plan
Development Large Breed Beef & Rice Formula For Puppies Under Two Years
First Five Ingredients
beef
rice
corn gluten meal
whole grain corn
poultry by-product meal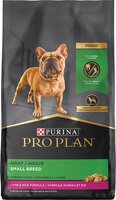 Purina Pro Plan
Small Breed (Specialized)
Shredded Blend Lamb & Rice Formula For Adult Dogs
Purina Pro Plan
Small Breed (Specialized) Shredded Blend Lamb & Rice Formula For Adult Dogs
First Five Ingredients
lamb
corn gluten meal
rice
poultry by-product meal
soybean meal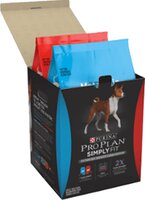 Purina Pro Plan
Simply Fit
Metabolic Maintenance For Adult Dogs
Purina Pro Plan
Simply Fit Metabolic Maintenance For Adult Dogs
First Five Ingredients
chicken
rice
whole grain wheat
poultry by-product meal
corn gluten meal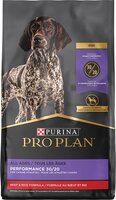 Purina Pro Plan
Sport
Performance 30/20 Beef & Rice Formula For All Canine Athletes
Purina Pro Plan
Sport Performance 30/20 Beef & Rice Formula For All Canine Athletes
First Five Ingredients
beef
corn gluten meal
rice
poultry by-product meal
whole grain corn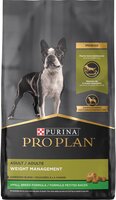 Purina Pro Plan
Weight Management (Specialized)
Shredded Blend Small Breed Formula For Adult Dogs
Purina Pro Plan
Weight Management (Specialized) Shredded Blend Small Breed Formula For Adult Dogs
First Five Ingredients
chicken
rice
corn gluten meal
poultry by-product meal
whole grain corn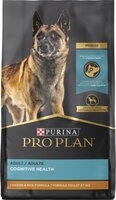 Purina Pro Plan
Cognitive Health
Chicken & Rice Formula For Adult Dogs
Purina Pro Plan
Cognitive Health Chicken & Rice Formula For Adult Dogs
First Five Ingredients
chicken
whole grain wheat
poultry by-product meal
rice
corn gluten meal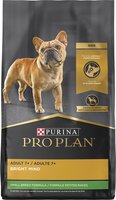 Purina Pro Plan
Bright Mind
Small Breed Formula For Senior Dogs (Adult 7+)
Purina Pro Plan
Bright Mind Small Breed Formula For Senior Dogs (Adult 7+)
First Five Ingredients
chicken
rice
poultry by-product meal
whole grain corn
corn gluten meal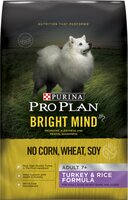 Purina Pro Plan
Bright Mind
Turkey & Rice Formula For Adult 7+
Purina Pro Plan
Bright Mind Turkey & Rice Formula For Adult 7+
First Five Ingredients
turkey
chicken meal
barley
oatmeal
ground rice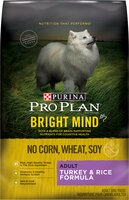 Purina Pro Plan
Bright Mind
Turkey & Rice Formula For Adult Dogs
Purina Pro Plan
Bright Mind Turkey & Rice Formula For Adult Dogs
First Five Ingredients
turkey
barley
chicken meal
ground rice
oatmeal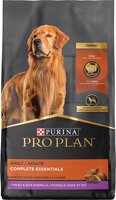 Purina Pro Plan
Complete Essentials
Shredded Blend Turkey & Rice Formula For Adult Dogs
Purina Pro Plan
Complete Essentials Shredded Blend Turkey & Rice Formula For Adult Dogs
First Five Ingredients
turkey
rice
whole grain wheat
poultry by-product meal
soybean meal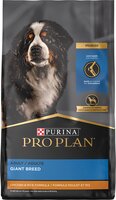 Purina Pro Plan
Giant Breed (Specialized)
Chicken & Rice Formula For Adult Dogs
Purina Pro Plan
Giant Breed (Specialized) Chicken & Rice Formula For Adult Dogs
First Five Ingredients
chicken
rice
whole grain wheat
corn gluten meal
whole grain corn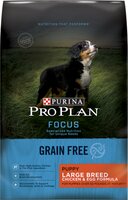 Purina Pro Plan
Focus Grain Free
Chicken & Egg Formula For Large Breed Puppies
Purina Pro Plan
Focus Grain Free Chicken & Egg Formula For Large Breed Puppies
First Five Ingredients
chicken
chicken meal
cassava root flour
pea starch
dried egg product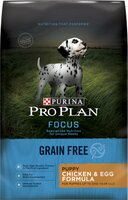 Purina Pro Plan
Focus Grain Free
Chicken & Egg Formula For Puppies
Purina Pro Plan
Focus Grain Free Chicken & Egg Formula For Puppies
First Five Ingredients
chicken
chicken meal
cassava root flour
pea starch
beef fat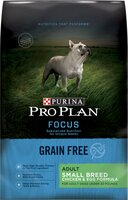 Purina Pro Plan
Focus Grain Free
Small Breed Chicken & Egg Formula For Adult Dogs
Purina Pro Plan
Focus Grain Free Small Breed Chicken & Egg Formula For Adult Dogs
First Five Ingredients
chicken
chicken meal
cassava root flour
pea starch
dried egg product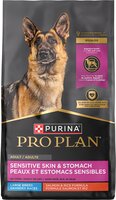 Purina Pro Plan
Sensitive Skin & Stomach (Specialized)
Large Breed Formula For Adult Dogs
Purina Pro Plan
Sensitive Skin & Stomach (Specialized) Large Breed Formula For Adult Dogs
First Five Ingredients
salmon
barley
rice
oatmeal
canola meal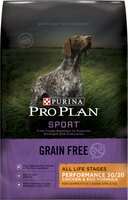 Purina Pro Plan
Sport Grain Free
Performance 30/20 Chicken & Egg Formula For All Life Stages
Purina Pro Plan
Sport Grain Free Performance 30/20 Chicken & Egg Formula For All Life Stages
First Five Ingredients
chicken
chicken meal
cassava root flour
dried egg product
canola meal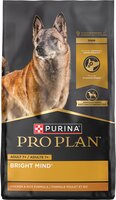 Purina Pro Plan
Bright Mind
Chicken & Rice Formula For Senior Dogs (Adult 7+)
Purina Pro Plan
Bright Mind Chicken & Rice Formula For Senior Dogs (Adult 7+)
First Five Ingredients
chicken
poultry by-product meal
rice
whole grain corn
corn gluten meal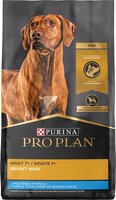 Purina Pro Plan
Bright Mind
Large Breed Formula For Senior Dogs (Adult 7+)
Purina Pro Plan
Bright Mind Large Breed Formula For Senior Dogs (Adult 7+)
First Five Ingredients
chicken
rice
poultry by-product meal
corn gluten meal
whole grain wheat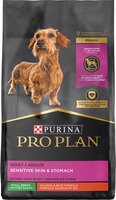 Purina Pro Plan
Sensitive Skin & Stomach (Specialized)
Small Breed Formula For Adult Dogs
Purina Pro Plan
Sensitive Skin & Stomach (Specialized) Small Breed Formula For Adult Dogs
First Five Ingredients
salmon
rice
barley
canola meal
fish meal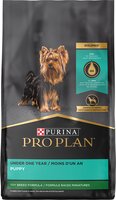 Purina Pro Plan
Development
Toy Breed Formula For Puppies
Purina Pro Plan
Development Toy Breed Formula For Puppies
First Five Ingredients
chicken
corn gluten meal
rice
poultry by-product meal
beef fat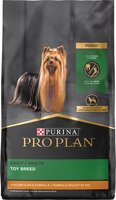 Purina Pro Plan
Toy Breed (Specialized)
Chicken & Rice Formula For Adult Dogs
Purina Pro Plan
Toy Breed (Specialized) Chicken & Rice Formula For Adult Dogs
First Five Ingredients
chicken
rice
corn gluten meal
whole grain corn
poultry by-product meal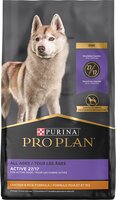 Purina Pro Plan
Sport
Active 27/17 Chicken & Rice Formula For Active Dogs
Purina Pro Plan
Sport Active 27/17 Chicken & Rice Formula For Active Dogs
First Five Ingredients
chicken
rice
whole grain wheat
poultry by-product meal
corn gluten meal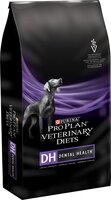 Purina Pro Plan
Veterinary Diets
DH Dental Health Canine Formula
Purina Pro Plan
Veterinary Diets DH Dental Health Canine Formula
First Five Ingredients
chicken
chicken meal
brewers rice
ground yellow corn
ground wheat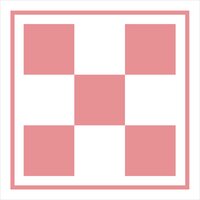 Purina Pro Plan
Veterinary Diets
DH Dental Health (Small Bites) Canine Formula
Purina Pro Plan
Veterinary Diets DH Dental Health (Small Bites) Canine Formula
First Five Ingredients
chicken
chicken meal
brewers rice
ground yellow corn
ground wheat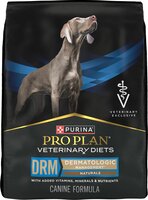 Purina Pro Plan
Veterinary Diets
DRM Dermatologic Management Naturals Canine Formula
Purina Pro Plan
Veterinary Diets DRM Dermatologic Management Naturals Canine Formula
First Five Ingredients
brewers rice
trout
oatmeal
pea protein
potato protein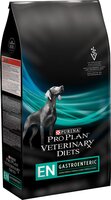 Purina Pro Plan
Veterinary Diets
EN Gastroenteric Canine Formula
Purina Pro Plan
Veterinary Diets EN Gastroenteric Canine Formula
First Five Ingredients
brewers rice
corn gluten meal
whole grain corn
chicken meal
animal fat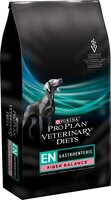 Purina Pro Plan
Veterinary Diets
EN Gastroenteric (Fiber Balance) Canine Formula
Purina Pro Plan
Veterinary Diets EN Gastroenteric (Fiber Balance) Canine Formula
First Five Ingredients
whole grain corn
dried beet pulp
poultry by-product meal
corn gluten meal
pearled barley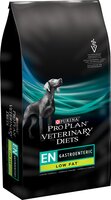 Purina Pro Plan
Veterinary Diets
EN Gastroenteric Low Fat Canine Formula
Purina Pro Plan
Veterinary Diets EN Gastroenteric Low Fat Canine Formula
First Five Ingredients
brewers rice
barley
corn gluten meal
poultry by-product meal
animal digest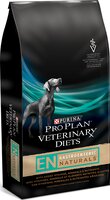 Purina Pro Plan
Veterinary Diets
EN Gastroenteric (Naturals) Canine Formula
Purina Pro Plan
Veterinary Diets EN Gastroenteric (Naturals) Canine Formula
First Five Ingredients
brewers rice
chicken meal
natural flavor
cassava root flour
potato protein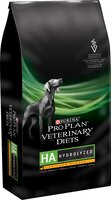 Purina Pro Plan
Veterinary Diets
HA Hydrolyzed (Chicken Flavor) Canine Formula
Purina Pro Plan
Veterinary Diets HA Hydrolyzed (Chicken Flavor) Canine Formula
First Five Ingredients
corn starch
hydrolyzed soybean protein isolate
partially hydrogenated canola oil
coconut oil
powdered cellulose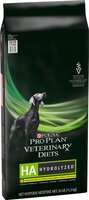 Purina Pro Plan
Veterinary Diets
HA Hydrolyzed (Vegetarian) Canine Formula
Purina Pro Plan
Veterinary Diets HA Hydrolyzed (Vegetarian) Canine Formula
First Five Ingredients
corn starch
hydrolyzed soybean protein isolate
coconut oil
partially hydrogenated canola oil
powdered cellulose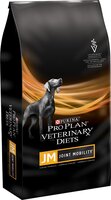 Purina Pro Plan
Veterinary Diets
JM Joint Mobility Canine Formula
Purina Pro Plan
Veterinary Diets JM Joint Mobility Canine Formula
First Five Ingredients
brewers rice
trout
salmon meal
corn gluten meal
poultry by-product meal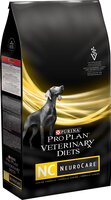 Purina Pro Plan
Veterinary Diets
NC NeuroCare Canine Formula
Purina Pro Plan
Veterinary Diets NC NeuroCare Canine Formula
First Five Ingredients
chicken
chicken meal
corn gluten meal
brewers rice
ground yellow corn
Purina Pro Plan
Veterinary Diets
NF Kidney Function Canine Formula
Purina Pro Plan
Veterinary Diets NF Kidney Function Canine Formula
First Five Ingredients
whole grain corn
brewers rice
dried egg product
animal fat
sugar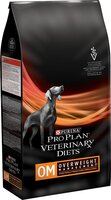 Purina Pro Plan
Veterinary Diets
OM Overweight Management Canine Formula
Purina Pro Plan
Veterinary Diets OM Overweight Management Canine Formula
First Five Ingredients
whole grain corn
corn gluten meal
soybean hulls
soybean germ meal
soybean meal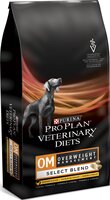 Purina Pro Plan
Veterinary Diets
OM Overweight Management Select Blend (Chicken Flavor) Canine Formula
Purina Pro Plan
Veterinary Diets OM Overweight Management Select Blend (Chicken Flavor) Canine Formula
First Five Ingredients
ground yellow corn
soybean meal
soybean germ meal
soybean hulls
soybean flour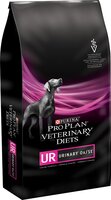 Purina Pro Plan
Veterinary Diets
UR Urinary Ox/St Canine Formula
Purina Pro Plan
Veterinary Diets UR Urinary Ox/St Canine Formula
First Five Ingredients
whole grain corn
brewers rice
chicken by-product meal
corn gluten meal
animal fat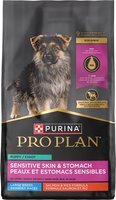 Purina Pro Plan
Development
Sensitive Skin & Stomach For Large Breed Puppies Under Two Years
Purina Pro Plan
Development Sensitive Skin & Stomach For Large Breed Puppies Under Two Years
First Five Ingredients
salmon
rice
barley
fish meal
canola meal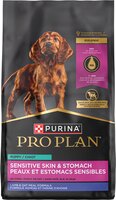 Purina Pro Plan
Development
Sensitive Skin & Stomach (Lamb & Oatmeal) For Puppies
Purina Pro Plan
Development Sensitive Skin & Stomach (Lamb & Oatmeal) For Puppies
First Five Ingredients
lamb
oatmeal
fish meal
rice
canola meal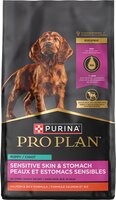 Purina Pro Plan
Development
Sensitive Skin & Stomach (Salmon & Rice) For Puppies
Purina Pro Plan
Development Sensitive Skin & Stomach (Salmon & Rice) For Puppies
First Five Ingredients
salmon
rice
barley
fish meal
canola meal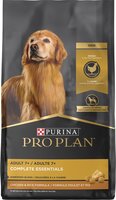 Purina Pro Plan
Complete Essentials
Shredded Blend Chicken & Rice Formula For Senior Dogs (Adult 7+)
Purina Pro Plan
Complete Essentials Shredded Blend Chicken & Rice Formula For Senior Dogs (Adult 7+)
First Five Ingredients
chicken
rice
poultry by-product meal
soybean meal
corn gluten meal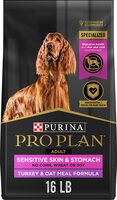 Purina Pro Plan
Sensitive Skin & Stomach (Specialized)
Turkey & Oat Meal Formula For Adult Dogs
Purina Pro Plan
Sensitive Skin & Stomach (Specialized) Turkey & Oat Meal Formula For Adult Dogs
First Five Ingredients
turkey
oatmeal
barley
fish meal
canola meal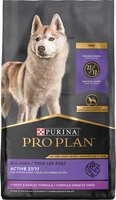 Purina Pro Plan
Sport
Active 27/17 Turkey & Barley Formula For Active Dogs
Purina Pro Plan
Sport Active 27/17 Turkey & Barley Formula For Active Dogs
First Five Ingredients
turkey
rice
barley
chicken meal
dried egg product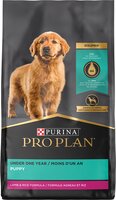 Purina Pro Plan
Development
Lamb & Rice Formula For Puppies
Purina Pro Plan
Development Lamb & Rice Formula For Puppies
First Five Ingredients
lamb
rice
chicken by-product meal
corn gluten meal
whole grain corn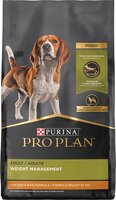 Purina Pro Plan
Weight Management (Specialized)
Chicken & Rice Formula For Adult Dogs
Purina Pro Plan
Weight Management (Specialized) Chicken & Rice Formula For Adult Dogs
First Five Ingredients
chicken
rice
poultry by-product meal
whole grain corn
corn gluten meal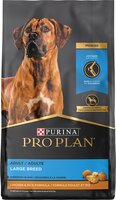 Purina Pro Plan
Large Breed (Specialized)
Shredded Blend Chicken & Rice Formula For Adult Dogs
Purina Pro Plan
Large Breed (Specialized) Shredded Blend Chicken & Rice Formula For Adult Dogs
First Five Ingredients
chicken
rice
whole grain wheat
poultry by-product meal
soybean meal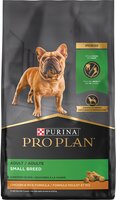 Purina Pro Plan
Small Breed (Specialized)
Shredded Blend Chicken & Rice Formula For Adult Dogs
Purina Pro Plan
Small Breed (Specialized) Shredded Blend Chicken & Rice Formula For Adult Dogs
First Five Ingredients
chicken
rice
poultry by-product meal
beef fat
corn gluten meal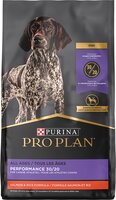 Purina Pro Plan
Sport
Performance 30/20 Salmon & Rice Formula For All Canine Athletes
Purina Pro Plan
Sport Performance 30/20 Salmon & Rice Formula For All Canine Athletes
First Five Ingredients
salmon
corn gluten meal
rice
poultry by-product meal
whole grain corn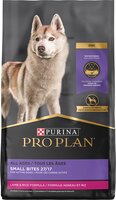 Purina Pro Plan
Sport
Small Bites 27/17 Lamb & Rice Formula For Active Dogs
Purina Pro Plan
Sport Small Bites 27/17 Lamb & Rice Formula For Active Dogs
First Five Ingredients
lamb
rice
corn gluten meal
poultry by-product meal
whole grain wheat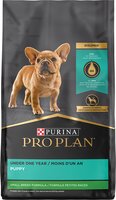 Purina Pro Plan
Development
Small Breed Formula For Puppies
Purina Pro Plan
Development Small Breed Formula For Puppies
First Five Ingredients
chicken
corn gluten meal
poultry by-product meal
rice
whole grain wheat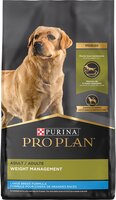 Purina Pro Plan
Weight Management (Specialized)
Large Breed Formula For Adult Dogs
Purina Pro Plan
Weight Management (Specialized) Large Breed Formula For Adult Dogs
First Five Ingredients
chicken
rice
whole grain wheat
poultry by-product meal
corn gluten meal
Purina Pro Plan
Complete Essentials
Shredded Blend Beef & Rice Formula For Adult Dogs
Purina Pro Plan
Complete Essentials Shredded Blend Beef & Rice Formula For Adult Dogs
First Five Ingredients
beef
rice
whole grain wheat
corn gluten meal
poultry by-product meal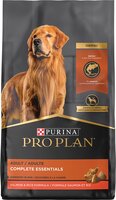 Purina Pro Plan
Complete Essentials
Shredded Blend Salmon & Rice Formula For Adult Dogs
Purina Pro Plan
Complete Essentials Shredded Blend Salmon & Rice Formula For Adult Dogs
First Five Ingredients
salmon
rice
whole grain wheat
poultry by-product meal
soybean meal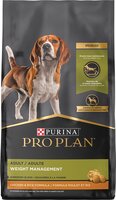 Purina Pro Plan
Weight Management (Specialized)
Shredded Blend Chicken & Rice Formula For Adult Dogs
Purina Pro Plan
Weight Management (Specialized) Shredded Blend Chicken & Rice Formula For Adult Dogs
First Five Ingredients
chicken
rice
whole grain corn
poultry by-product meal
corn germ meal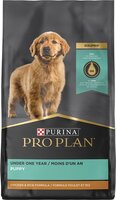 Purina Pro Plan
Development
Chicken & Rice Formula For Puppies
Purina Pro Plan
Development Chicken & Rice Formula For Puppies
First Five Ingredients
chicken
rice
poultry by-product meal
corn gluten meal
whole grain wheat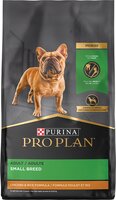 Purina Pro Plan
Small Breed (Specialized)
Chicken & Rice Formula For Adult Dogs
Purina Pro Plan
Small Breed (Specialized) Chicken & Rice Formula For Adult Dogs
First Five Ingredients
chicken
rice
corn gluten meal
poultry by-product meal
whole grain corn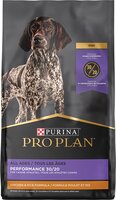 Purina Pro Plan
Sport
Performance 30/20 Chicken & Rice Formula For Canine Athletes
Purina Pro Plan
Sport Performance 30/20 Chicken & Rice Formula For Canine Athletes
First Five Ingredients
chicken
corn gluten meal
rice
beef fat
poultry by-product meal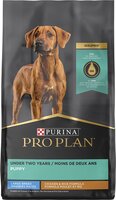 Purina Pro Plan
Development
Large Breed Formula For Puppies Under Two Years
Purina Pro Plan
Development Large Breed Formula For Puppies Under Two Years
First Five Ingredients
chicken
rice
corn gluten meal
whole grain corn
poultry by-product meal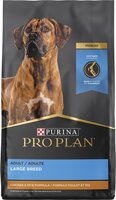 Purina Pro Plan
Large Breed (Specialized)
Chicken & Rice Formula For Adult Dogs
Purina Pro Plan
Large Breed (Specialized) Chicken & Rice Formula For Adult Dogs
First Five Ingredients
chicken
rice
corn gluten meal
whole grain corn
poultry by-product meal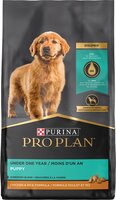 Purina Pro Plan
Development
Shredded Blend Chicken & Rice Formula For Puppies
Purina Pro Plan
Development Shredded Blend Chicken & Rice Formula For Puppies
First Five Ingredients
chicken
rice
poultry by-product meal
corn gluten meal
beef fat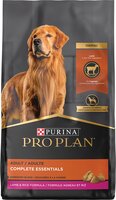 Purina Pro Plan
Complete Essentials
Shredded Blend Lamb & Rice Formula For Adult Dogs
Purina Pro Plan
Complete Essentials Shredded Blend Lamb & Rice Formula For Adult Dogs
First Five Ingredients
lamb
rice
poultry by-product meal
whole grain wheat
soybean meal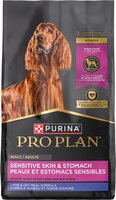 Purina Pro Plan
Sensitive Skin & Stomach (Specialized)
Lamb & Oat Meal Formula For Adult Dogs
Purina Pro Plan
Sensitive Skin & Stomach (Specialized) Lamb & Oat Meal Formula For Adult Dogs
First Five Ingredients
lamb
oatmeal
barley
fish meal
canola meal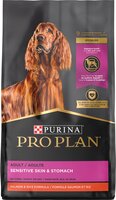 Purina Pro Plan
Sensitive Skin & Stomach (Specialized)
Salmon & Rice Formula For Adult Dogs
Purina Pro Plan
Sensitive Skin & Stomach (Specialized) Salmon & Rice Formula For Adult Dogs
First Five Ingredients
salmon
barley
rice
oatmeal
canola meal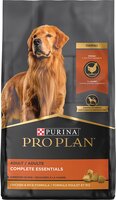 Purina Pro Plan
Complete Essentials
Shredded Blend Chicken & Rice Formula For Adult Dogs
Purina Pro Plan
Complete Essentials Shredded Blend Chicken & Rice Formula For Adult Dogs
First Five Ingredients
chicken
rice
whole grain wheat
poultry by-products
soybean meal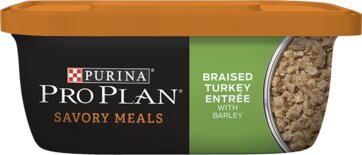 Purina Pro Plan
Savory Meals
Braised Turkey Entree With Barley
Purina Pro Plan
Savory Meals Braised Turkey Entree With Barley
First Five Ingredients
water sufficient for processing
turkey
wheat gluten
liver
chicken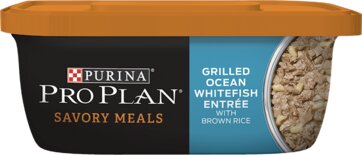 Purina Pro Plan
Savory Meals
Grilled Ocean Whitefish Entree With Brown Rice
Purina Pro Plan
Savory Meals Grilled Ocean Whitefish Entree With Brown Rice
First Five Ingredients
water sufficient for processing
ocean whitefish
wheat gluten
chicken
brown rice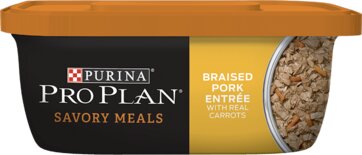 Purina Pro Plan
Savory Meals
Braised Pork Entree With Real Carrots
Purina Pro Plan
Savory Meals Braised Pork Entree With Real Carrots
First Five Ingredients
water sufficient for processing
pork
wheat gluten
liver
chicken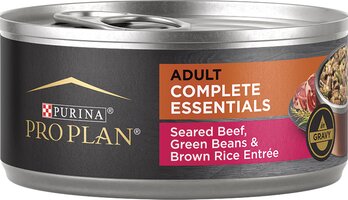 Purina Pro Plan
Complete Essentials
Seared Beef, Green Beans & Brown Rice Entree In Gravy For Adult Dogs
Purina Pro Plan
Complete Essentials Seared Beef, Green Beans & Brown Rice Entree In Gravy For Adult Dogs
First Five Ingredients
water sufficient for processing
beef
liver
wheat gluten
chicken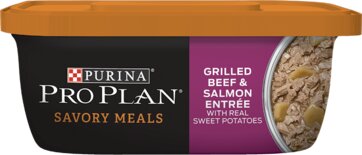 Purina Pro Plan
Savory Meals
Grilled Beef & Salmon Entree With Real Sweet Potatoes
Purina Pro Plan
Savory Meals Grilled Beef & Salmon Entree With Real Sweet Potatoes
First Five Ingredients
water sufficient for processing
beef
wheat gluten
salmon
liver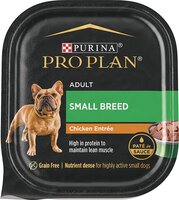 Purina Pro Plan
Focus
Chicken Entree For Small Breed Adult Dogs
Purina Pro Plan
Focus Chicken Entree For Small Breed Adult Dogs
First Five Ingredients
chicken
pork lung
water sufficient for processing
liver
carrageenan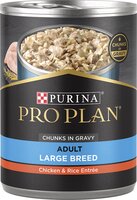 Purina Pro Plan
Chunks In Gravy
Chicken & Rice Entree For Large Breed Adult Dogs
Purina Pro Plan
Chunks In Gravy Chicken & Rice Entree For Large Breed Adult Dogs
First Five Ingredients
water sufficient for processing
chicken
liver
wheat gluten
rice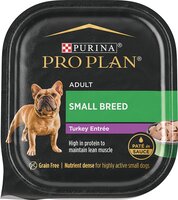 Purina Pro Plan
Focus
Turkey Entree For Small Breed Adult Dogs
Purina Pro Plan
Focus Turkey Entree For Small Breed Adult Dogs
First Five Ingredients
turkey
pork lung
water sufficient for processing
chicken
liver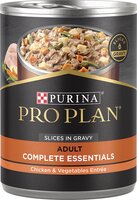 Purina Pro Plan
Complete Essentials
Chicken & Vegetables Entree Slices In Gravy For Adult Dogs
Purina Pro Plan
Complete Essentials Chicken & Vegetables Entree Slices In Gravy For Adult Dogs
First Five Ingredients
water sufficient for processing
chicken
liver
wheat gluten
turkey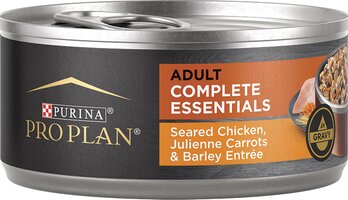 Purina Pro Plan
Complete Essentials
Seared Chicken, Julienne Carrots & Barley Entree In Gravy For Adult Dogs
Purina Pro Plan
Complete Essentials Seared Chicken, Julienne Carrots & Barley Entree In Gravy For Adult Dogs
First Five Ingredients
water sufficient for processing
chicken
liver
wheat gluten
dried carrot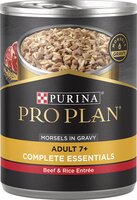 Purina Pro Plan
Complete Essentials
Beef & Rice Entree Morsels In Gravy For Adult 7+
Purina Pro Plan
Complete Essentials Beef & Rice Entree Morsels In Gravy For Adult 7+
First Five Ingredients
water sufficient for processing
beef
poultry
wheat gluten
meat by-products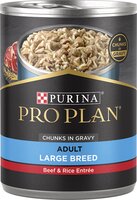 Purina Pro Plan
Chunks In Gravy
Beef & Rice Entree For Large Breed Adult Dogs
Purina Pro Plan
Chunks In Gravy Beef & Rice Entree For Large Breed Adult Dogs
First Five Ingredients
water sufficient for processing
beef
liver
wheat gluten
chicken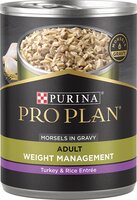 Purina Pro Plan
Weight Management
Turkey & Rice Entree Morsels In Gravy For Adult Dogs
Purina Pro Plan
Weight Management Turkey & Rice Entree Morsels In Gravy For Adult Dogs
First Five Ingredients
water sufficient for processing
turkey
liver
wheat gluten
chicken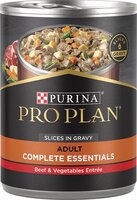 Purina Pro Plan
Complete Essentials
Beef & Vegetables Entree Slices In Gravy For Adult Dogs
Purina Pro Plan
Complete Essentials Beef & Vegetables Entree Slices In Gravy For Adult Dogs
First Five Ingredients
water sufficient for processing
beef
chicken
liver
wheat gluten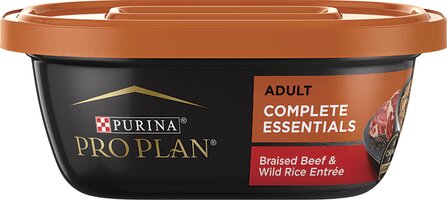 Purina Pro Plan
Complete Essentials
Braised Beef & Wild Rice Entree For Adult Dogs
Purina Pro Plan
Complete Essentials Braised Beef & Wild Rice Entree For Adult Dogs
First Five Ingredients
water sufficient for processing
beef
wheat gluten
liver
meat by-products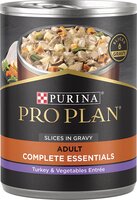 Purina Pro Plan
Complete Essentials
Turkey & Vegetables Entree Slices In Gravy For Adult Dogs
Purina Pro Plan
Complete Essentials Turkey & Vegetables Entree Slices In Gravy For Adult Dogs
First Five Ingredients
water sufficient for processing
turkey
chicken
wheat gluten
meat by-products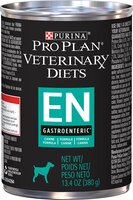 Purina Pro Plan
Veterinary Diets
EN Gastroenteric Canine Formula (Canned)
Purina Pro Plan
Veterinary Diets EN Gastroenteric Canine Formula (Canned)
First Five Ingredients
meat by-products
water sufficient for processing
barley
chicken
rice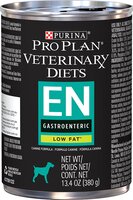 Purina Pro Plan
Veterinary Diets
EN Gastroenteric Low Fat Canine Formula (Canned)
Purina Pro Plan
Veterinary Diets EN Gastroenteric Low Fat Canine Formula (Canned)
First Five Ingredients
water
meat by-products
rice
barley
soybean protein isolate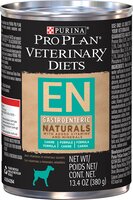 Purina Pro Plan
Veterinary Diets
EN Gastroenteric (Naturals) Canine Formula (Canned)
Purina Pro Plan
Veterinary Diets EN Gastroenteric (Naturals) Canine Formula (Canned)
First Five Ingredients
chicken
water sufficient for processing
liver
barley
rice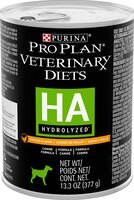 Purina Pro Plan
Veterinary Diets
HA Hydrolyzed (Chicken Flavor) Canine Formula (Canned)
Purina Pro Plan
Veterinary Diets HA Hydrolyzed (Chicken Flavor) Canine Formula (Canned)
First Five Ingredients
water sufficient for processing
pea starch
hydrolyzed chicken liver
hydrolyzed soybean protein isolate
powdered cellulose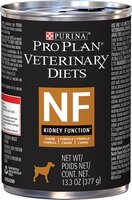 Purina Pro Plan
Veterinary Diets
NF Kidney Function Canine Formula (Canned)
Purina Pro Plan
Veterinary Diets NF Kidney Function Canine Formula (Canned)
First Five Ingredients
water sufficient for processing
meat by-products
rice
corn grits
beef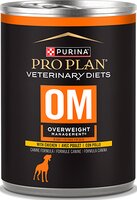 Purina Pro Plan
Veterinary Diets
OM Overweight Management Canine Formula (Canned)
Purina Pro Plan
Veterinary Diets OM Overweight Management Canine Formula (Canned)
First Five Ingredients
water
chicken
liver
powdered cellulose
rice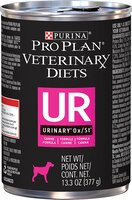 Purina Pro Plan
Veterinary Diets
UR Urinary Ox/St Canine Formula (Canned)
Purina Pro Plan
Veterinary Diets UR Urinary Ox/St Canine Formula (Canned)
First Five Ingredients
chicken
water sufficient for processing
rice
meat by-products
liver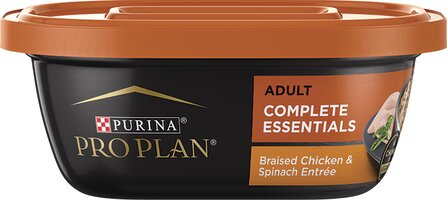 Purina Pro Plan
Complete Essentials
Braised Chicken & Spinach Entree For Adult Dogs
Purina Pro Plan
Complete Essentials Braised Chicken & Spinach Entree For Adult Dogs
First Five Ingredients
water sufficient for processing
chicken
wheat gluten
liver
meat by-products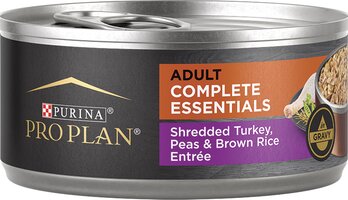 Purina Pro Plan
Complete Essentials
Shredded Turkey, Peas & Brown Rice Entree In Gravy For Adult Dogs
Purina Pro Plan
Complete Essentials Shredded Turkey, Peas & Brown Rice Entree In Gravy For Adult Dogs
First Five Ingredients
water sufficient for processing
turkey
chicken
wheat gluten
dried pea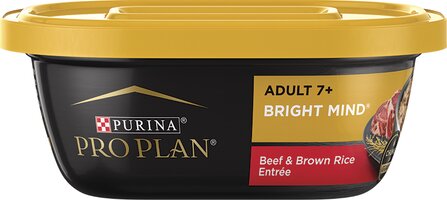 Purina Pro Plan
Bright Mind
Beef & Brown Rice Entree For Adult 7+
Purina Pro Plan
Bright Mind Beef & Brown Rice Entree For Adult 7+
First Five Ingredients
water
beef
wheat gluten
liver
brown rice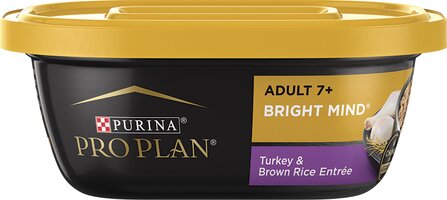 Purina Pro Plan
Bright Mind
Turkey & Brown Rice Entree For Adult 7+
Purina Pro Plan
Bright Mind Turkey & Brown Rice Entree For Adult 7+
First Five Ingredients
water sufficient for processing
turkey
wheat gluten
liver
brown rice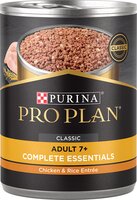 Purina Pro Plan
Complete Essentials
Chicken & Rice Entrée For Adult 7+ (Classic)
Purina Pro Plan
Complete Essentials Chicken & Rice Entrée For Adult 7+ (Classic)
First Five Ingredients
chicken
water
liver
meat by-products
rice
Purina Pro Plan
Complete Essentials
Turkey & Rice Entrée For Adult 7+ (Classic)
Purina Pro Plan
Complete Essentials Turkey & Rice Entrée For Adult 7+ (Classic)
First Five Ingredients
turkey
water
liver
meat by-products
chicken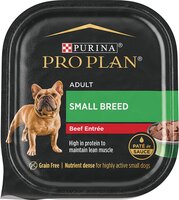 Purina Pro Plan
Focus
Beef Entree For Small Breed Adult Dogs
Purina Pro Plan
Focus Beef Entree For Small Breed Adult Dogs
First Five Ingredients
beef
pork lung
water sufficient for processing
chicken
liver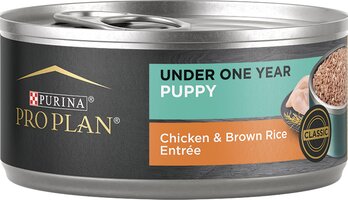 Purina Pro Plan
Classic
Chicken & Brown Rice Entree For Puppies
Purina Pro Plan
Classic Chicken & Brown Rice Entree For Puppies
First Five Ingredients
chicken
liver
meat by-products
water sufficient for processing
salmon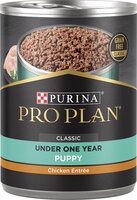 Purina Pro Plan
Grain Free Classic
Chicken Entree For Puppies
Purina Pro Plan
Grain Free Classic Chicken Entree For Puppies
First Five Ingredients
chicken
liver
meat by-products
water sufficient for processing
salmon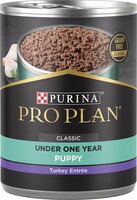 Purina Pro Plan
Grain Free Classic
Turkey Entree For Puppies
Purina Pro Plan
Grain Free Classic Turkey Entree For Puppies
First Five Ingredients
turkey
liver
meat by-products
water sufficient for processing
beef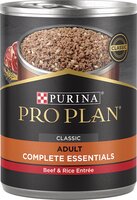 Purina Pro Plan
Complete Essentials
Classic Beef & Rice Entree For Adult Dogs
Purina Pro Plan
Complete Essentials Classic Beef & Rice Entree For Adult Dogs
First Five Ingredients
beef
water sufficient for processing
liver
meat by-products
chicken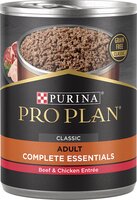 Purina Pro Plan
Complete Essentials
Classic Beef & Chicken Entree For Adult Dogs
Purina Pro Plan
Complete Essentials Classic Beef & Chicken Entree For Adult Dogs
First Five Ingredients
beef
chicken
water sufficient for processing
liver
meat by-products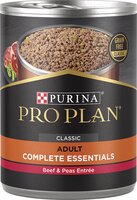 Purina Pro Plan
Complete Essentials
Grain Free Classic Beef & Peas Entree For Adult Dogs
Purina Pro Plan
Complete Essentials Grain Free Classic Beef & Peas Entree For Adult Dogs
First Five Ingredients
beef
water sufficient for processing
liver
meat by-products
chicken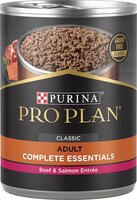 Purina Pro Plan
Complete Essentials
Classic Beef & Salmon Entree For Adult Dogs
Purina Pro Plan
Complete Essentials Classic Beef & Salmon Entree For Adult Dogs
First Five Ingredients
beef
liver
water sufficient for processing
chicken
meat by-products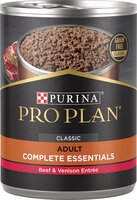 Purina Pro Plan
Complete Essentials
Classic Beef & Venison Entree For Adult Dogs
Purina Pro Plan
Complete Essentials Classic Beef & Venison Entree For Adult Dogs
First Five Ingredients
beef
water sufficient for processing
chicken
liver
meat by-products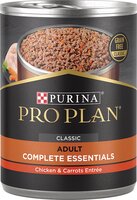 Purina Pro Plan
Complete Essentials
Classic Chicken & Carrots Entree For Adult Dogs
Purina Pro Plan
Complete Essentials Classic Chicken & Carrots Entree For Adult Dogs
First Five Ingredients
chicken
water sufficient for processing
liver
meat by-products
dried carrot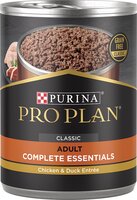 Purina Pro Plan
Complete Essentials
Classic Chicken & Duck Entree For Adult Dogs
Purina Pro Plan
Complete Essentials Classic Chicken & Duck Entree For Adult Dogs
First Five Ingredients
chicken
water sufficient for processing
liver
meat by-products
duck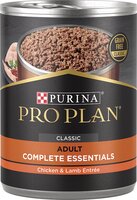 Purina Pro Plan
Complete Essentials
Classic Chicken & Lamb Entree For Adult Dogs
Purina Pro Plan
Complete Essentials Classic Chicken & Lamb Entree For Adult Dogs
First Five Ingredients
chicken
water sufficient for processing
liver
meat by-products
lamb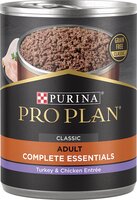 Purina Pro Plan
Complete Essentials
Classic Turkey & Chicken Entree For Adult Dogs
Purina Pro Plan
Complete Essentials Classic Turkey & Chicken Entree For Adult Dogs
First Five Ingredients
turkey
water sufficient for processing
chicken
liver
meat by-products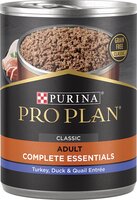 Purina Pro Plan
Complete Essentials
Classic Turkey, Duck & Quail Entree For Adult Dogs
Purina Pro Plan
Complete Essentials Classic Turkey, Duck & Quail Entree For Adult Dogs
First Five Ingredients
turkey
water sufficient for processing
chicken
liver
meat by-products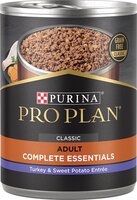 Purina Pro Plan
Complete Essentials
Classic Turkey & Sweet Potato Entree For Adult Dogs
Purina Pro Plan
Complete Essentials Classic Turkey & Sweet Potato Entree For Adult Dogs
First Five Ingredients
turkey
water sufficient for processing
liver
meat by-products
chicken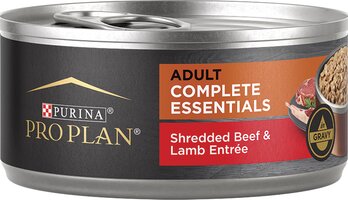 Purina Pro Plan
Complete Essentials
Shredded Beef & Lamb Entree In Gravy For Adult Dogs
Purina Pro Plan
Complete Essentials Shredded Beef & Lamb Entree In Gravy For Adult Dogs
First Five Ingredients
water sufficient for processing
beef
chicken
wheat gluten
lamb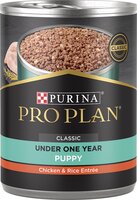 Purina Pro Plan
Classic
Chicken & Rice Entree For Puppies
Purina Pro Plan
Classic Chicken & Rice Entree For Puppies
First Five Ingredients
chicken
liver
meat by-products
water
salmon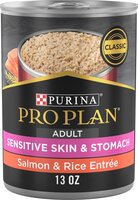 Purina Pro Plan
Focus
Classic Sensitive Skin & Stomach Salmon & Rice Entree For Adult Dogs
Purina Pro Plan
Focus Classic Sensitive Skin & Stomach Salmon & Rice Entree For Adult Dogs
First Five Ingredients
water sufficient for processing
salmon
rice
fish
potato protein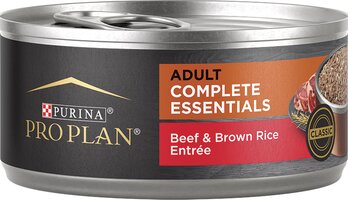 Purina Pro Plan
Complete Essentials
Beef & Brown Rice Entree Classic For Adult Dogs
Purina Pro Plan
Complete Essentials Beef & Brown Rice Entree Classic For Adult Dogs
First Five Ingredients
beef
water sufficient for processing
liver
meat by-products
chicken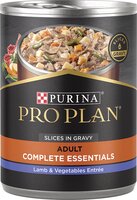 Purina Pro Plan
Complete Essentials
Lamb & Vegetables Entree Slices In Gravy For Adult Dogs
Purina Pro Plan
Complete Essentials Lamb & Vegetables Entree Slices In Gravy For Adult Dogs
First Five Ingredients
water sufficient for processing
lamb
liver
wheat gluten
chicken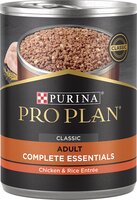 Purina Pro Plan
Complete Essentials
Classic Chicken & Rice Entree For Adult Dogs
Purina Pro Plan
Complete Essentials Classic Chicken & Rice Entree For Adult Dogs
First Five Ingredients
chicken
water sufficient for processing
liver
meat by-products
rice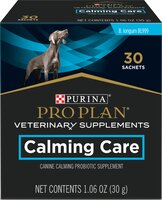 Purina Pro Plan
Veterinary Diets
Calming Care Canine Supplements
Purina Pro Plan
Veterinary Diets Calming Care Canine Supplements
First Five Ingredients
bifidobacterium longum
animal liver flavor
maltodextrin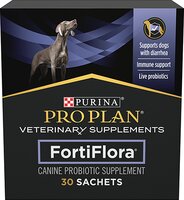 Purina Pro Plan
Veterinary Diets
FortiFlora Canine Nutritional Supplement
Purina Pro Plan
Veterinary Diets FortiFlora Canine Nutritional Supplement
First Five Ingredients
animal liver flavor
dried enterococcus faecium fermentation product
l-ascorbyl-2-polyphosphate
dried brewers yeast
vitamin E supplement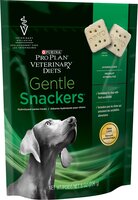 Purina Pro Plan
Veterinary Diets
Gentle Snackers Canine Treats
Purina Pro Plan
Veterinary Diets Gentle Snackers Canine Treats
First Five Ingredients
starch
hydrolyzed soybean protein isolate
vegetable oil
dicalcium phosphate
oat fiber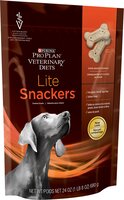 Purina Pro Plan
Veterinary Diets
Lite Snackers Canine Treats
Purina Pro Plan
Veterinary Diets Lite Snackers Canine Treats
First Five Ingredients
wheat flour
powdered cellulose
chicken by-product meal
monocalcium phosphate
dicalcium phosphate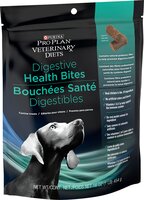 Purina Pro Plan
Veterinary Diets
Digestive Health Bites For Dogs
Purina Pro Plan
Veterinary Diets Digestive Health Bites For Dogs
First Five Ingredients
chicken
wheat bran
corn gluten meal
ground yellow corn
water