Alpo Dental Chews Small/Medium Review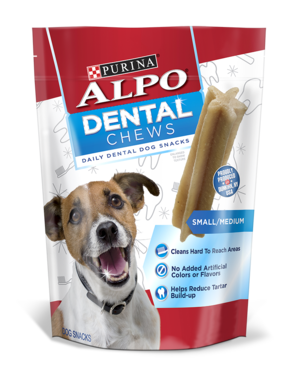 Price Comparison
Updated - Jun 16, 2019
---

Free 2-Day Shipping Available
On Orders $35+
---

19.62 + Shipping (By Weight)
Free Shipping On Orders $25+
---

Existing Customers
Free Shipping Orders $49+

5.98 + Shipping ($4.95)
$4.19

NEW Customers w/ AutoShip
Free 1-2 Day Shipping Orders $49+
30% Off First Auto-Ship

Free 2-Day Shipping Available
On Orders $35+

14.65 + Shipping (By Weight)
Free Shipping On Orders $25+
Review of Alpo Dental Chews
Small/Medium
Ingredient Review
The first ingredient is rice. Rice is a gluten-free carbohydrate source. As long as the bran and germ of the grain are intact, rice can provide a notable amount of fiber and nutrition. However, because the type of rice ("brown" or "white") is not specified, we cannot make this determination.
The second ingredient is water. Water of course only provides moisture, a necessary component of wet dog foods.
Controversial Ingredients
Chicken by-product meal is produced by cooking chicken by-products using a process called rendering. By-products are defined by AAFCO as the "non-rendered, clean parts, other than meat, derived from slaughtered mammals." Thus, chicken by-products contain nearly all parts of chickens which are typically not consumed by humans. These parts include the liver, lung, spleen, kidney, stomach, blood, intestine, bone, etc.
Like other meat by-products, chicken by-products are considered controversial, mainly because they are inexpensive ingredients which consumers have equated with slaughterhouse waste. However, manufactures and many experts claim that animal by-products are unjustly criticized. Proponents state that "named" by-products, such as chicken by-products, supply many important nutrients required by dogs.
Harmful Ingredients
Butylated hydroxyanisole (BHA) is an artificial preservative and possible cancer-causing agent. Studies have show that BHA can be linked to various tumors in laboratory animals.
Butylated hydroxytoluene (BHT) is an artificial preservative and possible cancer-causing agent. BHT is banned in several countries, but the FDA has classified BHT as "generally recognized as safe."