Alpo Tbonz Filet Mignon Flavor Review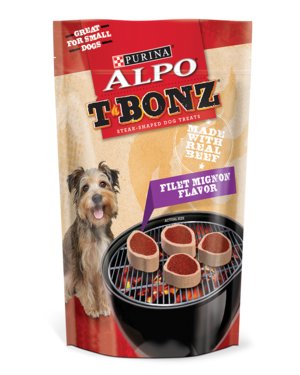 Price Comparison
Updated - Mar 25, 2019
---

18.99 + Shipping (By Weight)
Free Shipping On Orders $25+
---

7.84 + Shipping (By Weight)
Lower Price $7.28 + Shipping
Available From 3rd-Party Seller
---

Free 2-Day Shipping Available
On Orders $35+

13.98 + Shipping (By Weight)
Lower Price $11.00 + Shipping
Available From 3rd-Party Seller
Review of Alpo Tbonz
Filet Mignon Flavor
Ingredient Review
The first ingredient is ground wheat. Ground wheat is regarded as an inexpensive and low-quality filler in pet food. However, wheat does provide plant-based protein and makes pet food more affordable for consumers. It's important to note that plant based protein does not provide the same amino acid profile as meat based protein.
The second ingredient is water. Water of course only provides moisture, a necessary component of wet dog foods.
The third ingredient is wheat flour. Wheat flour is produced by grinding uncooked wheat into a powder. In addition to dietary fiber, wheat flour provides various vitamins, minerals, and plant based protein.
Wheat is considered a controversial ingredient because of it's protein content. Plant based proteins degrade the overall protein quality in the product. In addition, many people believe wheat is one of the most common ingredients to cause food allergies or intolerance. However, grains such as wheat are typically low offenders in comparison to certain protein sources such as beef.
The fourth ingredient is corn gluten meal. Corn gluten meal is a by-product from the production of various corn products (corn starch, corn syrup, etc). It's very high in protein (nearly 60% protein) and therefore can significant boost the protein content of the product. Because plant based proteins such as corn gluten meal are inferior to meat based proteins (lack many essential amino acids), they are not suitable substitutes.
Controversial Ingredients
Ground yellow corn is a cereal grain which provides a modest amount of vitamins, minerals, and plant based protein. It also happens to be one of the most controversial ingredients in dog food.
Proponents of corn claim that corn is highly digestible and an excellent source of protein, energy, vitamins, minerals, and essential fatty acids.
Opponents however believe that positive claims in regards to corn are either half-truths or completely false, we'll discuss a few of the opposing arguments.
In regards to digestibility, the claims of "highly digestible" are only true if corn is processed into a meal or flour and subsequently cooked. In regards to the protein contribution, we must note that corn is a plant based protein which does not contain all of the necessary amino acids required by dogs to sustain life. Therefore substituting corn for meat is an unsuitable substitution and actually degrades the overall protein quality of the product.
Finally, we'll discuss the claims about vitamins and minerals in corn. Although corn does provide many vitamins and minerals, it not necessarily an exceptional ingredient in this regards. There are many other ingredients which are more complete and biologically appropriate. Therefore the usage of corn as the primary ingredient in dog food should certainly warrant further questioning.
Chicken by-product meal is produced by cooking chicken by-products using a process called rendering. By-products are defined by AAFCO as the "non-rendered, clean parts, other than meat, derived from slaughtered mammals." Thus, chicken by-products contain nearly all parts of chickens which are typically not consumed by humans. These parts include the liver, lung, spleen, kidney, stomach, blood, intestine, bone, etc.
Like other meat by-products, chicken by-products are considered controversial, mainly because they are inexpensive ingredients which consumers have equated with slaughterhouse waste. However, manufactures and many experts claim that animal by-products are unjustly criticized. Proponents state that "named" by-products, such as chicken by-products, supply many important nutrients required by dogs.
Liver is a controversial ingredient because the source animal is not specified. Anonymous animal ingredients are typically very low quality and may contain almost any animal, including dogs and cats!
Hydrogenated corn syrup is made from corn starch and it's typically used as a thickener, sweetener, and humectant (keeps the product moist). The term hydrogenated means the syrup was treated with hydrogen. It's considered controversial because it can raise a dog's blood sugar to unhealthy levels. Of course this concern may be nullified if the syrup is used in very small quantities.
Animal digest is the result of undecomposed animal tissue after hydrolysis, a chemical reaction. It is typically used as flavoring to improve taste. Animal digest is considered by many as an undesirable low-quality ingredient. What's more, the source animal is not specified and therefore animal digest can contain almost any animal, including dogs and cats!
Harmful Ingredients
Bacon fat is not necessarily an undesirable ingredient, however, the artificial preservative BHA is considered to be a possible carcinogen according to the World Health Organization.
The ingredient "added color" is ambiguous and may include various artificial dyes. Most artificial dyes have been linked to various chronic diseases.
Red 40 lake is a non-soluble form of red 40, an artificial dye. Studies have shown that red 40 may accelerate the appearance of immune-system tumors in mice, cause allergy-like reactions, and trigger hyperactivity in children.
Yellow 5 Lake is a non-soluble form of yellow 5, an artificial dye. According to the Center For Science In The Public Interest, yellow 5 may be contaminated with several cancer-causing chemicals. Like other dyes, yellow 5 lake does not provide any nutritional value.
Blue 2 is an artificial dye which can increase the likelihood of tumors according to the Center for Science in the Public Interest. Like other dyes, blue 2 does not provide any nutritional value.