Alpo Variety Snaps Little Bites Made With Beef, Chicken, Liver, and Lamb Flavors Review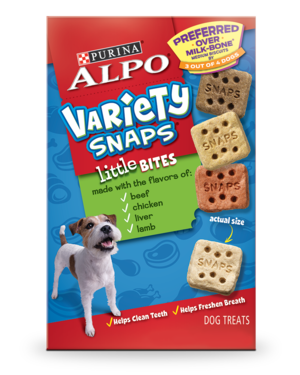 Price Comparison
Updated - Mar 25, 2019
---

Existing Customers
Free Shipping Orders $49+

3.19 + Shipping ($4.95)
$2.23

NEW Customers w/ AutoShip
Free 1-2 Day Shipping Orders $49+
30% Off First Auto-Ship
---

Existing Customers
Free Shipping Orders $49+

4.92 + Shipping ($4.95)
$3.44

NEW Customers w/ AutoShip
Free 1-2 Day Shipping Orders $49+
30% Off First Auto-Ship

Free 2-Day Shipping Available
On Orders $35+
Review of Alpo Variety Snaps
Little Bites Made With Beef, Chicken, Liver, and Lamb Flavors
Ingredient Review
The first ingredient is wheat flour. Wheat flour is produced by grinding uncooked wheat into a powder. In addition to dietary fiber, wheat flour provides various vitamins, minerals, and plant based protein.
Wheat is considered a controversial ingredient because of it's protein content. Plant based proteins degrade the overall protein quality in the product. In addition, many people believe wheat is one of the most common ingredients to cause food allergies or intolerance. However, grains such as wheat are typically low offenders in comparison to certain protein sources such as beef.
The second ingredient is beef tallow (preserved with mixed tocopherols). Beef tallow is a rendered form of beef fat, which is a good fat source.
The third ingredient is wheat gluten. Wheat gluten is the main protein of wheat. Although wheat gluten is mostly protein, wheat gluten is considered controversial because it significantly boosts the protein content of the product. This is undesirable because plant based protein does not provide the same amino acid profile as meat based protein.
Controversial Ingredients
Chicken by-product meal is produced by cooking chicken by-products using a process called rendering. By-products are defined by AAFCO as the "non-rendered, clean parts, other than meat, derived from slaughtered mammals." Thus, chicken by-products contain nearly all parts of chickens which are typically not consumed by humans. These parts include the liver, lung, spleen, kidney, stomach, blood, intestine, bone, etc.
Like other meat by-products, chicken by-products are considered controversial, mainly because they are inexpensive ingredients which consumers have equated with slaughterhouse waste. However, manufactures and many experts claim that animal by-products are unjustly criticized. Proponents state that "named" by-products, such as chicken by-products, supply many important nutrients required by dogs.
Animal digest is the result of undecomposed animal tissue after hydrolysis, a chemical reaction. It is typically used as flavoring to improve taste. Animal digest is considered by many as an undesirable low-quality ingredient. What's more, the source animal is not specified and therefore animal digest can contain almost any animal, including dogs and cats!
Harmful Ingredients
Red 40 is the most widely used artificial dye in consumer goods. Studies have shown that red 40 may accelerate the appearance of immune-system tumors in mice, cause allergy-like reactions and trigger hyperactivity in children.
Yellow 5 is an artificial dye which may be contaminated with several cancer-causing chemicals. Like other dyes, yellow 5 does not provide any nutritional value.
Blue 1 is an artificial dye with serious but unconfirmed health concerns. Like other dyes, blue 1 does not provide any nutritional value.
Yellow 6 is an artificial food dye which may be contaminated with cancer-causing chemicals. According to the Center For Science In The Public Interest, yellow 6 can cause adrenal tumors in animals.