AvoDerm Biscuits Dog Treats Review
Original Recipe Biscuits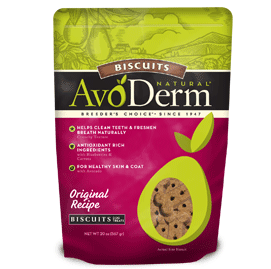 Review of AvoDerm Biscuits Dog Treats
Original Recipe Biscuits
Ingredient Review
The first ingredient is ground whole brown rice. Ground whole brown rice is naturally rich in fiber and various minerals including manganese, phosphorus, and magnesium. Relative to other grains, ground whole brown rice is easy to digest.
The second ingredient is lamb meal. Lamb meal is produced by cooking lamb using a process called rendering. The rendering process dramatically reduces the natural moisture of lamb and thereby results in a highly condensed protein source.
The third ingredient is ground whole white rice. Ground whole white rice is produced by removing the husk, germ, and bran of rice grains. Unlike brown rice which contains the bran and germ, white rice is nutritionally empty.
The fourth ingredient is oatmeal. Oatmeal is simply coarsely ground oats and therefore contains the entire oat grain. As with regular oats, oatmeal is rich in dietary fiber, B vitamins, and various minerals.
The fifth ingredient is rice flour. Rice flour is a gluten-free carbohydrate source. As long as the bran and germ of the grain are included in the flour, rice flour can provide a notable amount of fiber and nutrition. However, because the type of rice ("brown" or "white") is not specified, we cannot make this determination.
Next we have natural flavor. Natural flavor enhances the flavor of the product. The difference between natural and artificial flavoring is that natural flavoring starts from a plant or animal whereas artificial flavoring is entirely man-made.
The next ingredient is ground flaxseed. Ground flaxseeds are an outstanding source of omega-3 fatty acids and dietary fiber. They also provide a notable amount of protein, B vitamins, and various minerals.
Then we have avocado meal. Avocado meal is a controversial ingredient in dog food, mainly because of potential toxicity concerns. We believe these concerns are largely due to misinformation.
Avocados are nutritionally dense with a notable amount of vitamins, minerals, dietary fiber, and healthy fats. In addition, avocados are believed to be beneficial to the skin and coat of dogs.
Moving on, we have herring meal. Herring meal is produced by a process called rendering. In short, the rendering process involves cooking herring until the moisture level falls below 10%. By removing the moisture, we're left with a concentrated protein powder made with herring (i.e. herring meal).
Moving on with this review, we have canola oil (preserved with mixed tocopherols). Canola oil is a plant-derived oil from the seeds of canola plants. Although fat is an essential component of any diet, canola oil is controversial in pet food. Proponents claim that canola oil provides a better fat profile in comparison to other plant based oils. However, opponents claim that canola oil is typically produced with genetically modified rapeseed and that rapeseed oil has multiple adverse health affects.
The next ingredient in this review is avocado oil, which is a very good fat source. It's extracted from the fleshy pulp surrounding the avocado pit.
Our next ingredient is blueberry. Blueberries are an excellent source of dietary fiber, vitamin C, vitamin K, and manganese.
carrot is the next ingredient in this recipe. Carrots are an excellent source of dietary fiber and minerals. In addition, carrots are rich in beta carotene, an antioxidant which is a precursor to vitamin A.