Beneful Baked Delights Stars Review
With Chicken and Cheese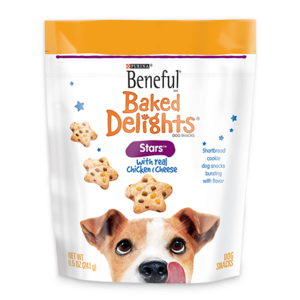 Review of Beneful Baked Delights Stars
With Chicken and Cheese
Ingredient Review
The first ingredient is wheat flour. Wheat flour is produced by grinding uncooked wheat into a powder. In addition to dietary fiber, wheat flour provides various vitamins, minerals, and plant based protein.
Wheat is considered a controversial ingredient because of it's protein content. Plant based proteins degrade the overall protein quality in the product. In addition, many people believe wheat is one of the most common ingredients to cause food allergies or intolerance. However, grains such as wheat are typically low offenders in comparison to certain protein sources such as beef.
The second ingredient is animal fat (preserved with mixed tocopherols). Animal fat is a by-product of tissue rendering. The source animal is not specific and therefore we cannot be certain that the source does not include diseased animals or even euthanized dogs and cats.
The third ingredient is sugar, which is really an unnecessary additive. It's most likely used to improve the food's palatability.
The fourth ingredient is chicken. Although chicken is an excellent protein source, raw chicken contains more than 60% moisture. After cooking, the relative meat contribution of chicken is dramatically reduced. Therefore, it's important to ensure that other meat sources are included within the first few ingredients to ensure the product derives most of its protein from meat.
Controversial Ingredients
Corn flour a ground cereal grain which provides a modest amount of vitamins, minerals, and plant based protein. It also happens to be one of the most controversial ingredients in dog food.
Proponents of corn claim that corn is highly digestible and an excellent source of protein, energy, vitamins, minerals, and essential fatty acids.
Opponents however believe that positive claims in regards to corn are either half-truths or completely false, we'll discuss a few of the opposing arguments.
In regards to digestibility, the claims of "highly digestible" are only true if corn is processed into a meal or flour and subsequently cooked. In regards to the protein contribution, we must note that corn is a plant based protein which does not contain all of the necessary amino acids required by dogs to sustain life. Therefore substituting corn for meat is an unsuitable substitution and actually degrades the overall protein quality of the product.
Finally, we'll discuss the claims about vitamins and minerals in corn. Although corn does provide many vitamins and minerals, it not necessarily an exceptional ingredient in this regards. There are many other ingredients which are more complete and biologically appropriate. Therefore the usage of corn as the primary ingredient in dog food should certainly warrant further questioning.
Soybean protein concentrate is produced by removing the water soluble carbohydrates from soybeans. The inclusion of non-meat protein typically degrades the overall quality of protein in the recipe. This degradation is due to the inferior amino acid profile of plant based proteins.
Canola oil is a plant-derived oil from the seeds of canola plants. Although fat is an essential component of any diet, canola oil is controversial in pet food. Proponents claim that canola oil provides a better fat profile in comparison to other plant based oils. However, opponents claim that canola oil is typically produced with genetically modified rapeseed and that rapeseed oil has multiple adverse health affects.
Dried garlic in very small quantities can be an acceptable addition, however, garlic can also be toxic. Therefore many pet owners choose to completely avoid garlic.
Harmful Ingredients
Yellow 5 Lake is a non-soluble form of yellow 5, an artificial dye. According to the Center For Science In The Public Interest, yellow 5 may be contaminated with several cancer-causing chemicals. Like other dyes, yellow 5 lake does not provide any nutritional value.
Yellow 6 Lake is a non-soluble form of yellow 6, an artificial dye. According to the Center For Science In The Public Interest, yellow 6 can cause adrenal tumors in animals.
Red 40 lake is a non-soluble form of red 40, an artificial dye. Studies have shown that red 40 may accelerate the appearance of immune-system tumors in mice, cause allergy-like reactions, and trigger hyperactivity in children.