Beneful Grain Free Review
With Farm-Raised Chicken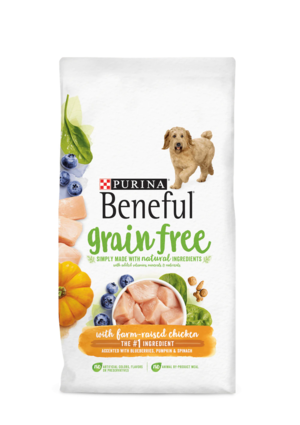 Price Comparison
Updated - Sep 19, 2018
---

Free 2-Day Shipping Available
On Orders $35+
---

Free 2-Day Shipping Available
On Orders $35+
Review of Beneful Grain Free
With Farm-Raised Chicken
Controversial Ingredients
Chicken by-product meal is produced by cooking chicken by-products using a process called rendering. By-products are defined by AAFCO as the "non-rendered, clean parts, other than meat, derived from slaughtered mammals." Thus, chicken by-products contain nearly all parts of chickens which are typically not consumed by humans. These parts include the liver, lung, spleen, kidney, stomach, blood, intestine, bone, etc.
Like other meat by-products, chicken by-products are considered controversial, mainly because they are inexpensive ingredients which consumers have equated with slaughterhouse waste. However, manufactures and many experts claim that animal by-products are unjustly criticized. Proponents state that "named" by-products, such as chicken by-products, supply many important nutrients required by dogs.
Canola meal is a high protein by-product of canola oil production. This ingredient is marked controversial because it may be derived from genetically modified rapeseed, which is associated with multiple adverse health affects.
Iron oxide is an FDA approved natural food coloring agent. It's commonly found in rusting metal and provides a reddish-brown color.
We believe food colorants are unnecessary ingredients in dog food. Other than potential harm, food colorants do not provide any nutritional value. These type of ingredients are used only to make the food look appealing to humans.
Harmful Ingredients
Menadione sodium bisulfite complex is a synthetic version of vitamin K that has been linked to many health concerns. Research has suggested possible toxic reactions in liver cells and red blood cells among other serious problems. In fact, one large chemical supplier warns, "The substance is toxic to kidneys, lungs, liver, mucous membranes. Repeated or prolonged exposure to the substance can produce target organs damage."