Blue Buffalo Dental Bones Review
Large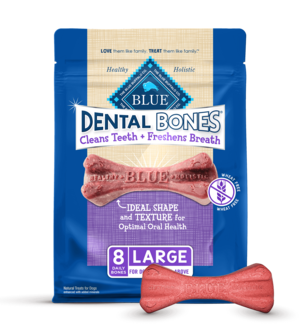 Price Comparison
Updated - Nov 14, 2018
---

Existing Customers
Free Shipping Orders $49+

11.99 + Shipping ($4.95)
$7.97

NEW Customers w/ AutoShip
New Customers w/ Auto-Ship
30% Off + 5% Off / First Time

Free Shipping On Orders 35+

$10 Off + Free Shipping Orders $60+
Use Code: SAVENOW

11.99 + Shipping (By Weight)
Lower Price $11.49 + Shipping
Available From 3rd-Party Seller
---

$10 Off + Free Shipping Orders $60+
Use Code: SAVENOW
---

Existing Customers
Free Shipping Orders $49+

23.99 + Shipping ($4.95)
$15.95

NEW Customers w/ AutoShip
New Customers w/ Auto-Ship
30% Off + 5% Off / First Time

Free Shipping On Orders 35+

$10 Off + Free Shipping Orders $60+
Use Code: SAVENOW


23.99 + Shipping (By Weight)
Free Shipping On Orders $25+
---

Existing Customers
Free Shipping Orders $49+

29.99 + Shipping ($4.95)
$19.94

NEW Customers w/ AutoShip
New Customers w/ Auto-Ship
30% Off + 5% Off / First Time

Free Shipping On Orders $25+

Free Shipping On Orders 35+

Review of Blue Buffalo Dental Bones
Large
Ingredient Review
The first ingredient is rice. Rice is a gluten-free carbohydrate source. As long as the bran and germ of the grain are intact, rice can provide a notable amount of fiber and nutrition. However, because the type of rice ("brown" or "white") is not specified, we cannot make this determination.
The second ingredient is vegetable glycerin. Vegetable glycerin is a clear, orderless liquid derived from plant oils. It is often used to increase the product's moisture and/or improve palatability.
The third ingredient is water. Water of course only provides moisture, a necessary component of wet dog foods.
The fourth ingredient is gelatin. Gelatin is produced from animal by-products and contains 98% to 99% protein by dry weight. However, gelatin protein is incomplete and lacks many essential amino acids.
The fifth ingredient is pea protein. Pea protein is produced by removing the starchy parts of peas. Pea protein is considered controversial because it provides a substantial plant based protein boost. This boost is undesirable because plant based protein is typically lower in biological value when compared to meat based proteins.
Next we have rice bran. Rice grains can be divided into three components: bran, germ, and endosperm. The bran is the outer layer of the grain. The bran is an excellent fiber source, it also provide all three macronutrients (fat, protein, and carbohydrates) and various vitamins and minerals.
The next ingredient is natural flavor. Natural flavor enhances the flavor of the product. The difference between natural and artificial flavoring is that natural flavoring starts from a plant or animal whereas artificial flavoring is entirely man-made.
Then we have sunflower oil. Sunflower oil is an omega-6 fatty acid source. Unlike other oils (flax, canola, etc), sunflower oil does not provide omega-3 fatty acids; However, the balancing omega-3 fatty acids are most likely supplied by another oil or fat source.
Moving on, we have flaxseed. Flaxseeds are an outstanding source of omega-3 fatty acids and dietary fiber. They also provide a notable amount of protein, B vitamins, and various minerals.
Moving on with this review, we have carrot. Carrots are an excellent source of dietary fiber and minerals. In addition, carrots are rich in beta carotene, an antioxidant which is a precursor to vitamin A.