Blue Buffalo Natural Veterinary Diet Review
KS Kidney Support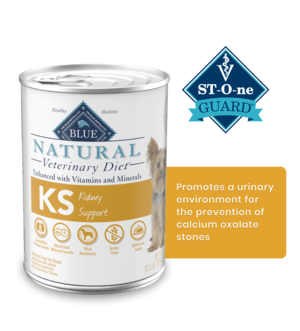 Prescription Diets
Are Not Rated
Price Comparison
Updated - Nov 20, 2018
---

Existing Customers
Free Shipping Orders $49+

36.48 + Shipping ($4.95)
$24.26

NEW Customers w/ AutoShip
New Customers w/ Auto-Ship
30% Off + 5% Off / First Time
Review of Blue Buffalo Natural Veterinary Diet
KS Kidney Support
This product is manufactured by Blue Buffalo.
Unfortunately, our team has not been able to confirm that this product meets any AAFCO nutrition profiles. We rely on the companies website to provide this information. However, we were not able to find a nutritional adequacy statement on the company's website. We caution owners from feeding non-AAFCO approved products because these products may not contain all of the nutrients required by your dog.
Ingredient Review
We'll begin this review of Blue Buffalo Natural Veterinary Diet KS Kidney Support with a detailed discussion of the ingredients.
The first ingredient is chicken, which provides animal-based protein and important omega-6 fatty acids.
The second ingredient is chicken broth. Chicken broth provides both flavor and moisture; however, as with other broths, chicken broth does not provide any notable nutritional contribution.
The third ingredient is water. Of course, water only provides moisture, which is a necessary component in wet foods.
The fourth ingredient is potato starch. Potato starch is a gluten-free ingredient extracted from potatoes. Unlike whole potatoes, the starch itself does not provide a notable amount of nutrition.
The fifth ingredient is potato. Potatoes are commonly used in pet food as a gluten free carbohydrate source which also provides various vitamins, minerals, and antioxidants.
Because ingredients are listed in order of pre-cooked weight, the remaining ingredients in Blue Buffalo Natural Veterinary Diet KS Kidney Support are not as important as the first five ingredients.
However, collectively they still have a significant impact on the overall quality of the product. Therefore, we'll continue discussing the remaining ingredients in this Blue Buffalo recipe.
Next we have carrot. Carrots are naturally rich in many vitamins and minerals.
The next ingredient is pea. Peas are high-protein legumes which supply a healthy dose of dietary fiber and several important vitamins and minerals.
Then we have pea fiber. Pea fiber is a concentrated dietary fiber source. Fiber can help stabilize blood sugar levels and promote colon health.
Moving on, we have chicken fat. Essentially fatty acids are crucially important for optimal health, chicken fat happens to be an excellent source of omega-6 fatty acids.
Moving on with this review, we have flaxseed. Flaxseeds are an outstanding source of omega-3 fatty acids and dietary fiber. They also provide a notable amount of protein, B vitamins, and various minerals.
The next ingredient in this review is natural flavor. The usage of natural flavor to improve palatability is fairly common practice in dog food products.
Our next ingredient is fish oil. Fish oil is defined by AAFCO as "the oil from rendering whole fish or cannery waste." It is typically rich in omega-3 fatty acids and therefore a good fat source. However, the specific fish used to obtain the oil is not specified and therefore we cannot make any specific claims.
guar gum is the next ingredient in this recipe. Guar gum (or guaran) is obtained from guar beans which have been dehusked, milled and screened. It's commonly used in wet food products as a thickening agent and provides a notable amount of dietary fiber.
The remaining ingredients in this Blue Buffalo Natural Veterinary Diet recipe are unlikely to affect the overall rating of the product.
Our analysis of the ingredients show that this product derives a considerable amount of protein from non-meat ingredients. Since this product is a prescription diet, this property may be required and therefore we cannot make any further statements.
Final Thoughts
In summary, we recognize that this product does not contain any artificial colors, artificial preservatives, or anonymous meat ingredients.