Blue Buffalo Wilderness Crunchy Cat Treats Trout Flavor Review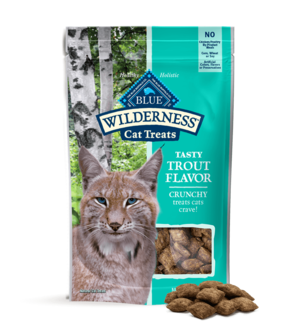 Price Comparison
Updated - Mar 25, 2019
---

Existing Customers
Free Shipping Orders $49+

2.69 + Shipping ($4.95)
$1.79

NEW Customers w/ AutoShip
New Customers w/ Auto-Ship
30% Off + 5% Off / First Time


4.99 + Shipping ($5.95)
$3.99 w/ code

PawDiet20
20% Off First AutoShip
Use Code: PawDiet20

11.73 + Shipping (By Weight)
Review of Blue Buffalo Wilderness Crunchy Cat Treats
Trout Flavor
Ingredient Review
The first ingredient is trout. Although trout is an excellent protein and omega-3 fatty acid source, raw trout contains more than 60% moisture. After cooking, the relative meat contribution of trout is dramatically reduced. Therefore, it's important to ensure that other meat sources are included within the first few ingredients to ensure the product derives most of its protein from meat.
The second ingredient is chicken meal. Chicken meal is produced by cooking chicken using a process called rendering. The rendering process dramatically reduces the natural moisture of chicken and thereby results in a highly condensed protein source.
The third ingredient is potato starch. Potato starch is a gluten-free ingredient extracted from potatoes. Unlike whole potatoes, the starch itself does not provide a notable amount of nutrition.
The fourth ingredient is pea. Peas are starchy members of the legume family. Other than carbohydrates, peas are notably high in plant based protein and various vitamins and minerals.
The fifth ingredient is dried brewers yeast. Dried brewers yeast is a by-product of the brewing industry. Brewers yeast is rich in various minerals and contains a notable amount of protein.
Next we have chicken fat. Chicken fat is typically collected while cooking chicken using a process called rendering. Chicken fat is a relatively high quality source of essential fatty acids. In particular, chicken fat is high in linoleic acid, an important omega-6 fatty acid.
The next ingredient is natural flavor. Natural flavor enhances the flavor of the product. The difference between natural and artificial flavoring is that natural flavoring starts from a plant or animal whereas artificial flavoring is entirely man-made.
Then we have citric acid. Citric acid is an antioxidant commonly used in pet food as a natural preservative. There are concerns regarding possible links between citric acid and canine bloat, but these claims are not backed by any credible scientific evidence.
Moving on, we have potassium chloride. Potassium chloride is a potassium supplement.