Bravo Crunchy Delights Review
Chicken Recipe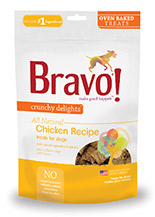 Review of Bravo Crunchy Delights
Chicken Recipe
Ingredient Review
The first ingredient is chicken. Although chicken is an excellent protein source, raw chicken contains more than 60% moisture. After cooking, the relative meat contribution of chicken is dramatically reduced. Therefore, it's important to ensure that other meat sources are included within the first few ingredients to ensure the product derives most of its protein from meat.
The second ingredient is chickpea. Chickpeas (also known as garbanzo beans) are an excellent carbohydrate source, naturally rich in dietary fiber and protein.
The third ingredient is oats. Oats are an excellent carbohydrate source with considerable nutrients in addition to dietary fiber. More specifically, oats are rich in B vitamins and various minerals including manganese.
The fourth ingredient is quinoa. Quinoa is considered a "pseudocerial" because it's typically used like cereal grains (i.e. corn, wheat, millet), but it's not part of the grass family.
Quinoa is high in protein and provides a much better essential amino acid profile than most true cereal grains. Furthermore, quinoa is naturally rich in many vitamins and minerals.
The fifth ingredient is chicken liver. Chicken liver is an excellent organ meat which provides high quality protein and fat. In addition, chicken liver provides many essential vitamins and minerals.
Next we have chicken heart. Chicken hearts are full of high quality protein and fat. Chicken hearts also provide a notable amount of vitamins and minerals.
The next ingredient is cane molasses. Cane molasses is a less refined form of sugar, made from sugar cane. It's naturally rich in various minerals including magnesium, manganese, iron, calcium, and potassium.
Cane molasses is however considered a controversial ingredient because it can raise a dogs blood sugar level, as it can with humans.
Then we have chicken gizzard. Chicken gizzards are meaty organ meats which provide high quality protein. They are naturally low in fat and play an important role in the digestive system of chickens and other birds. As with other organ meats, chicken gizzards are an excellent addition in the recipe.