Bravo Training Treats Beef Hot Dog Bits Review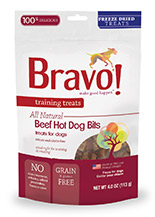 Review of Bravo Training Treats
Beef Hot Dog Bits
Ingredient Review
The first ingredient is beef. Although beef is an excellent protein source, raw beef contains more than 60% moisture. After cooking, the relative meat contribution of beef is dramatically reduced. Therefore, it's important to ensure that other meat sources are included within the first few ingredients to ensure the product derives most of its protein from meat.
The second ingredient is water. Water of course only provides moisture, a necessary component of wet dog foods.
The third ingredient is salt. Salt is an important mineral for both humans and dogs. Depending on the quantity of salt used (which we cannot determine), salt may or may not be a nutritious addition in the recipe.
Controversial Ingredients
Garlic powder in very small quantities can be an acceptable addition, however, garlic can also be toxic. Therefore many pet owners choose to completely avoid garlic.