Canidae All Life Stages Bakery Snacks With Turkey, Quinoa & Butternut Squash Review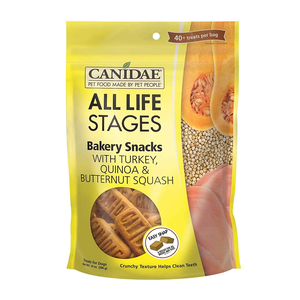 Price Comparison
Updated - Mar 26, 2019
---

Existing Customers
Free Shipping Orders $49+

7.59 + Shipping ($4.95)
$5.05

NEW Customers w/ AutoShip
New Customers w/ Auto-Ship
30% Off + 5% Off / First Time

Free Shipping On Orders 35+

12.59 + Shipping (By Weight)
Free Shipping On Orders $25+
Review of Canidae All Life Stages Bakery Snacks
With Turkey, Quinoa & Butternut Squash
Ingredient Review
The first ingredient is brown rice. Brown rice is naturally rich in fiber and various minerals including manganese, phosphorus, and magnesium. Relative to other grains, brown rice is easy to digest.
The second ingredient is pea flour. Pea flour is made from roasted peas which have been processed into a powder. It's naturally rich in protein and dietary fiber.
The third ingredient is turkey. Although turkey is an excellent protein source, raw turkey contains more than 60% moisture. After cooking, the relative meat contribution of turkey is dramatically reduced. Therefore, it's important to ensure that other meat sources are included within the first few ingredients to ensure the product derives most of its protein from meat.
The fourth ingredient is quinoa. Quinoa is considered a "pseudocerial" because it's typically used like cereal grains (i.e. corn, wheat, millet), but it's not part of the grass family.
Quinoa is high in protein and provides a much better essential amino acid profile than most true cereal grains. Furthermore, quinoa is naturally rich in many vitamins and minerals.
The fifth ingredient is butternut squash. Butternut squash is a winter squash, which means the squash is harvested when mature. It's an excellent source of dietary fiber, vitamin A, vitamin C, vitamin E, and various dietary minerals.
Next we have chicken fat (preserved with mixed tocopherols and citric acid). Chicken fat is typically collected while cooking chicken using a process called rendering. Chicken fat is a relatively high quality source of essential fatty acids. In particular, chicken fat is high in linoleic acid, an important omega-6 fatty acid.
The next ingredient is natural flavor. Natural flavor enhances the flavor of the product. The difference between natural and artificial flavoring is that natural flavoring starts from a plant or animal whereas artificial flavoring is entirely man-made.