Canidae All Life Stages Bakery Snacks Review
With Wild Boar & Kale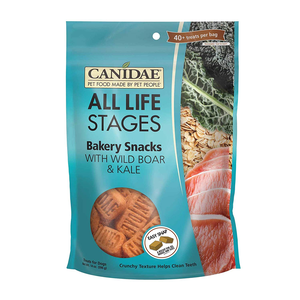 Price Comparison
Updated - Dec 14, 2018
---

Existing Customers
Free Shipping Orders $49+

7.59 + Shipping ($4.95)
$5.05

NEW Customers w/ AutoShip
New Customers w/ Auto-Ship
30% Off + 5% Off / First Time

Free Shipping On Orders 35+
Review of Canidae All Life Stages Bakery Snacks
With Wild Boar & Kale
Ingredient Review
The first ingredient is brown rice. Brown rice is naturally rich in fiber and various minerals including manganese, phosphorus, and magnesium. Relative to other grains, brown rice is easy to digest.
The second ingredient is steel-cut oats. Steel-cut oats provide a notable amount of dietary fiber, B vitamins, and various minerals. Whats more, non-contaminated oats are gluten free; however, oats are typically processed and grown near ingredients which contain gluten and therefore contamination is not unusual. Always check the packaging to ensure the product is gluten free if your dog has allergies to gluten.
The third ingredient is wild boar. Although wild boar is an excellent protein source, raw wild boar contains more than 60% moisture. After cooking, the relative meat contribution of wild boar is dramatically reduced. Therefore, it's important to ensure that other meat sources are included within the first few ingredients to ensure the product derives most of its protein from meat.
The fourth ingredient is kale. Kale is a nutritionally dense dark green vegetable rich in vitamins, minerals, and antioxidants. Kale also contains sulforaphane, a compound believed to have anti-cancer properties.
The fifth ingredient is oat fiber. Oat fiber is a concentrated dietary fiber source. Fiber can help stabilize blood sugar levels and improve or maintain colon health.
Next we have chicken fat (preserved with mixed tocopherols and citric acid). Chicken fat is typically collected while cooking chicken using a process called rendering. Chicken fat is a relatively high quality source of essential fatty acids. In particular, chicken fat is high in linoleic acid, an important omega-6 fatty acid.
The next ingredient is natural flavor. Natural flavor enhances the flavor of the product. The difference between natural and artificial flavoring is that natural flavoring starts from a plant or animal whereas artificial flavoring is entirely man-made.