Castor & Pollux Good Buddy Grain Free Dental Chews Review
Mini Bones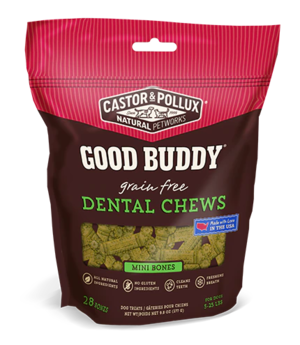 Price Comparison
Updated - Oct 17, 2018
---

Existing Customers
Free Shipping Orders $49+

15.99 + Shipping ($4.95)
$10.63

NEW Customers w/ AutoShip
New Customers w/ Auto-Ship
30% Off + 5% Off / First Time

15.99 + Shipping (By Weight)
Lower Price $14.44 + Shipping
Available From 3rd-Party Seller
Review of Castor & Pollux Good Buddy Grain Free Dental Chews
Mini Bones
Ingredient Review
The first ingredient is potato starch. Potato starch is a gluten-free ingredient extracted from potatoes. Unlike whole potatoes, the starch itself does not provide a notable amount of nutrition.
The second ingredient is vegetable glycerin. Vegetable glycerin is a clear, orderless liquid derived from plant oils. It is often used to increase the product's moisture and/or improve palatability.
The third ingredient is dried beet pulp. Dried beet pulp is the by-product which remains once sugar has been extracted from sugar beets. The primary contribution of beet pulp is dietary fiber.
We'd also like to note that beet pulp is fairly controversial in pet food. Proponents claim that beet pulp can promote intestinal health and regulate blood sugar. However, opponents claim that beet pulp is an inexpensive filler.
The fourth ingredient is cane molasses. Cane molasses is a less refined form of sugar, made from sugar cane. It's naturally rich in various minerals including magnesium, manganese, iron, calcium, and potassium.
Cane molasses is however considered a controversial ingredient because it can raise a dogs blood sugar level, as it can with humans.
The fifth ingredient is chicken fat. Chicken fat is typically collected while cooking chicken using a process called rendering. Chicken fat is a relatively high quality source of essential fatty acids. In particular, chicken fat is high in linoleic acid, an important omega-6 fatty acid.
Next we have natural chicken flavor. As the name implies, natural chicken flavor provides chicken flavor to the product. This particular flavor is derived from natural sources which may or may not include real chicken.
The next ingredient is water. Water of course only provides moisture, a necessary component of wet dog foods.