Cesar Softies Review
Filet Mignon Flavor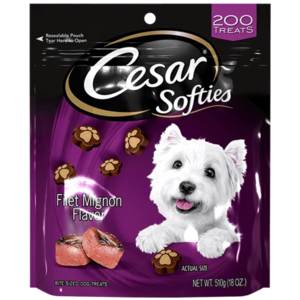 Price Comparison
Updated - Nov 14, 2018
---

Existing Customers
Free Shipping Orders $49+

3.63 + Shipping ($4.95)
$2.41

NEW Customers w/ AutoShip
New Customers w/ Auto-Ship
30% Off + 5% Off / First Time

Free Shipping On Orders 35+
---

Free Shipping On Orders $25+
---

Existing Customers
Free Shipping Orders $49+

11.29 + Shipping ($4.95)
$7.51

NEW Customers w/ AutoShip
New Customers w/ Auto-Ship
30% Off + 5% Off / First Time

11.29 + Shipping (By Weight)
Free Shipping On Orders $25+
Review of Cesar Softies
Filet Mignon Flavor
Ingredient Review
The first ingredient is rice flour. Rice flour is a gluten-free carbohydrate source. As long as the bran and germ of the grain are included in the flour, rice flour can provide a notable amount of fiber and nutrition. However, because the type of rice ("brown" or "white") is not specified, we cannot make this determination.
The second ingredient is wheat flour. Wheat flour is produced by grinding uncooked wheat into a powder. In addition to dietary fiber, wheat flour provides various vitamins, minerals, and plant based protein.
Wheat is considered a controversial ingredient because of it's protein content. Plant based proteins degrade the overall protein quality in the product. In addition, many people believe wheat is one of the most common ingredients to cause food allergies or intolerance. However, grains such as wheat are typically low offenders in comparison to certain protein sources such as beef.
Controversial Ingredients
Caramel color is a concentrated form of caramel, a natural food colorant. Caramel color has been linked to cancer in laboratory animals. Since our pets do not care about food color, caramel color is an unnecessary addition with possible health risks.
Harmful Ingredients
Animal fat is a by-product of tissue rendering. The source animal is not specific and therefore we cannot be certain that the source does not include diseased animals or even euthanized dogs and cats. What's more, this ingredient is preserved with BHA/BHT, both artificial preservatives and possible carcinogens according to the World Health Organization.
Yellow 5 is an artificial dye which may be contaminated with several cancer-causing chemicals. Like other dyes, yellow 5 does not provide any nutritional value.
Yellow 6 is an artificial food dye which may be contaminated with cancer-causing chemicals. According to the Center For Science In The Public Interest, yellow 6 can cause adrenal tumors in animals.