Dogswell Boundless Chews Review
Bacon Flavor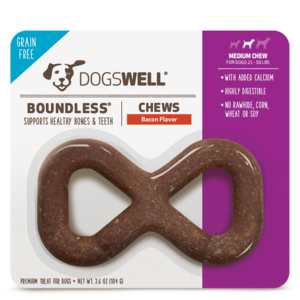 Review of Dogswell Boundless Chews
Bacon Flavor
Ingredient Review
The first ingredient is potato. Potatoes are commonly used in pet food as a gluten free carbohydrate source which also provides various vitamins, minerals, and antioxidants.
The second ingredient is tapioca. Tapioca is a gluten-free starch extracted from cassava roots. Starch is a necessary component in producing kibble and tapioca is an excellent choice in this regard.
Controversial Ingredients
Pea protein is produced by removing the starchy parts of peas. Pea protein is considered controversial because it provides a substantial plant based protein boost. This boost is undesirable because plant based protein is typically lower in biological value when compared to meat based proteins.
Caramel color is a concentrated form of caramel, a natural food colorant. Caramel color has been linked to cancer in laboratory animals. Since our pets do not care about food color, caramel color is an unnecessary addition with possible health risks.