Evanger's Classic Review
Beef and Bacon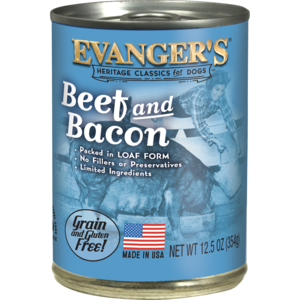 Price Comparison
Updated - Oct 16, 2018
---

$10 Off + Free Shipping Orders $60+
Use Code: SAVENOW

33.91 + Shipping (Free)
$33.57

w/ coupon
Free Shipping On Orders $25+
Save 1% with this coupon.
---

Free Shipping On Orders $25+
Review of Evanger's Classic
Beef and Bacon
Ingredient Review
The first ingredient is beef. Although beef is an excellent protein source, raw beef contains more than 60% moisture. After cooking, the relative meat contribution of beef is dramatically reduced. Therefore, it's important to ensure that other meat sources are included within the first few ingredients to ensure the product derives most of its protein from meat.
The second ingredient is bacon. Bacon is produced by curing the fatty meat from the belly of a pig. It's likely used in this recipe to enhance the food's flavor; however, bacon is typically not a desirable addition in dog food.
The third ingredient is water sufficient for processing. Water of course only provides moisture, a necessary component of wet products.
The fourth ingredient is liver. Liver is a controversial ingredient because the source animal is not specified. Anonymous animal ingredients are typically very low quality and may contain almost any animal, including dogs and cats!
The fifth ingredient is guar gum. Guar gum (or guaran) is obtained from guar beans which have been dehusked, milled and screened. It's commonly used in wet food products as a thickening agent and provides a notable amount of dietary fiber.