Fancy Feast Classic Broths Review
With Chicken, Vegetables & Whitefish In A Decadent Silky Broth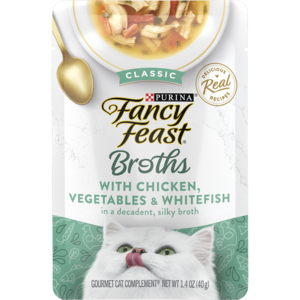 Price Comparison
Updated - Oct 16, 2018
---

$10 Off + Free Shipping Orders $60+
Use Code: SAVENOW


17.60 + Shipping (By Weight)
Free Shipping On Orders $25+
Review of Fancy Feast Classic Broths
With Chicken, Vegetables & Whitefish In A Decadent Silky Broth
Ingredient Review
The first ingredient is poultry broth. Poultry broth provides both flavor and moisture; however, as with other broths, poultry broth does not provide any notable nutritional contribution. In addition, we typically prefer the specific type of poultry specified (chicken broth, turkey broth, quail broth, etc), which is not done here.
The second ingredient is chicken. Although chicken is an excellent protein source, raw chicken contains more than 60% moisture. After cooking, the relative meat contribution of chicken is dramatically reduced. Therefore, it's important to ensure that other meat sources are included within the first few ingredients to ensure the product derives most of its protein from meat.
The third ingredient is carrot. Carrots are an excellent source of dietary fiber and minerals. In addition, carrots are rich in beta carotene, an antioxidant which is a precursor to vitamin A.
Controversial Ingredients
Soybean protein can significantly boost the protein content of the product. The inclusion of non-meat protein typically degrades the overall quality of protein in the recipe. This degradation is due to the inferior amino acid profile of plant based proteins.