Fancy Feast Creamy Broths Review
With Wild Salmon and Whitefish In A Decadent Creamy Broth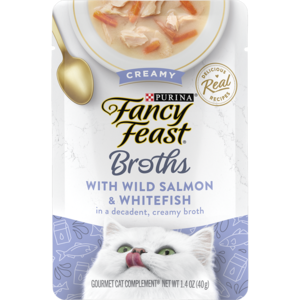 Review of Fancy Feast Creamy Broths
With Wild Salmon and Whitefish In A Decadent Creamy Broth
Ingredient Review
The first ingredient is fish broth. Fish broth provides both flavor and moisture; however, as with other broths, fish broth does not provide any notable nutritional contribution.
The second ingredient is salmon. Although salmon is an excellent protein and omega-3 fatty acid source, raw salmon contains more than 60% moisture. After cooking, the relative meat contribution of salmon is dramatically reduced. Therefore, it's important to ensure that other meat sources are included within the first few ingredients to ensure the product derives most of its protein from meat.
Controversial Ingredients
Soy protein isolate is a highly refined/purified form of soy bean protein. Roughly 90% of soy protein isolate is protein. The inclusion of non-meat protein typically degrades the overall quality of protein in the recipe. This degradation is due to the inferior amino acid profile of plant based proteins.
Specific vegetable oils are typically positive ingredients; however, this ingredient does not specify which vegetable(s) were used to produce the oil.
Without this information, it is impossible for us to make any specific statements. With any fat source, it is important to know the omega-3 to omega-6 fatty acid ratio, a property which cannot be determined with this ingredient. Thus, we have marked vegetable oil as a controversial ingredient.
Harmful Ingredients
The ingredient "added color" is ambiguous and may include various artificial dyes. Most artificial dyes have been linked to various chronic diseases.