Fancy Feast Elegant Medleys Review
White Meat Chicken and Tuna Recipe With Wild Rice and Spinach In Broth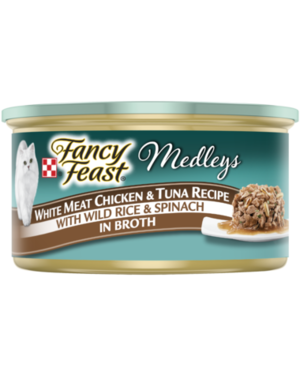 Review of Fancy Feast Elegant Medleys
White Meat Chicken and Tuna Recipe With Wild Rice and Spinach In Broth
This product is manufactured by Nestlé Purina Petcare.
Unfortunately, our team has not been able to confirm that this product meets any AAFCO nutrition profiles. We rely on the companies website to provide this information. However, we were not able to find a nutritional adequacy statement on the company's website. We caution owners from feeding non-AAFCO approved products because these products may not contain all of the nutrients required by your cat.
Ingredient Review
We'll begin this review of Fancy Feast Elegant Medleys White Meat Chicken and Tuna Recipe With Wild Rice and Spinach In Broth with a detailed discussion of the ingredients.
The first ingredient is poultry broth. Poultry broth provides both flavor and moisture; however, as with other broths, poultry broth does not provide any notable nutritional contribution. In addition, we typically prefer the specific type of poultry specified (chicken broth, turkey broth, quail broth, etc), which is not done here.
The second ingredient is chicken. Although chicken is an excellent protein source, raw chicken contains more than 60% moisture. After cooking, the relative meat contribution of chicken is dramatically reduced. Therefore, it's important to ensure that other meat sources are included within the first few ingredients to ensure the product derives most of its protein from meat.
The third ingredient is wheat gluten. Wheat gluten is the main protein of wheat. Although wheat gluten is mostly protein, wheat gluten is considered controversial because it significantly boosts the protein content of the product. This is undesirable because plant based protein does not provide the same amino acid profile as meat based protein.
The fourth ingredient is liver. Liver is a controversial ingredient because the source animal is not specified. Anonymous animal ingredients are typically very low quality and may contain almost any animal, including dogs and cats!
The fifth ingredient is wild rice. Wild rice is a gluten-free grain which supplies protein, dietary fiber, certain minerals, and B vitamins.
Because ingredients are listed in order of pre-cooked weight, the remaining ingredients in Fancy Feast Elegant Medleys White Meat Chicken and Tuna Recipe With Wild Rice and Spinach In Broth are not as important as the first five ingredients.
However, collectively they still have a significant impact on the overall quality of the product. Therefore, we'll continue discussing the remaining ingredients in this Fancy Feast recipe.
Next we have meat by-products. By-products are defined by AAFCO as the "non-rendered, clean parts, other than meat, derived from slaughtered mammals." Thus, meat by-products contain nearly all parts of the animal which are typically not consumed by humans. These parts include the liver, lung, spleen, kidney, stomach, blood, intestine, bone, etc.
This ingredient is marked controversial because the meat source is not identified. Anonymous ingredients such as meat by-products are typically very low quality additions. The most unpleasing property of this ingredient is that the animal source can contain any mammal, even dogs & cats.
The next ingredient is spinach. Spinach is a nutritionally dense dark green vegetable rich in vitamins, minerals, and antioxidants.
Then we have modified corn starch. Modified corn starch is derived from the endosperm of the corn kernel. The modified term indicates that the corn starch has been treated or processed in order to expose or improve some property. Typically, corn starch is used as a binder in kibble.
Moving on, we have tuna. Tuna is another excellent protein source. As with other raw meats, tuna contains a substantial amount of moisture and therefore the relative meat contribution of tuna is dramatically reduced after cooking.
Moving on with this review, we have artificial flavor. Artificial flavor is an ingredient which improves the palatability of food. Unlike natural flavor, artificial flavor is not derived from a natural source. However, artificial flavors on a scientific level are indistinguishable from their natural counterparts.
The next ingredient in this review is natural flavor. Unlike artificial flavoring, natural flavoring is produced using plants and/or animal parts.
Our next ingredient is salt. Salt is an important mineral for both humans and cats. Depending on the quantity of salt used (which we cannot determine), salt may or may not be a nutritious addition in the recipe.
The remaining ingredients in this Fancy Feast Elegant Medleys recipe are unlikely to affect the overall rating of the product.
Our analysis of the ingredients show that this product derives a considerable amount of protein from non-meat ingredients. This is an undesirable property because plant based protein often lacks many of the necessary amino acids required by cats. This property is typically found in lower quality products.
Final Thoughts
In summary, we recognize that this product contains artificial colors and anonymous meat ingredients.
Although the FDA has approved the artificial colors used in this product, they are unnecessary and unhealthy additions. Long term exposure can have serious consequences. See our article on artificial food dyes for more information.
In regards to the anonymous meat ingredients, These are not necessarily always negative; however, they are typically low quality and inexpensive additions. If the particular anonymous meat ingredient is controversial or low quality, it should have been discussed earlier in this review. Otherwise, it is safe to assume the anonymous meat ingredient is an acceptable addition.
The official PawDiet rating for Fancy Feast Elegant Medleys White Meat Chicken and Tuna Recipe With Wild Rice and Spinach In Broth is 1.0 out of 5.