Greenies Breath Buster Bites Review
Crisp Apple Flavor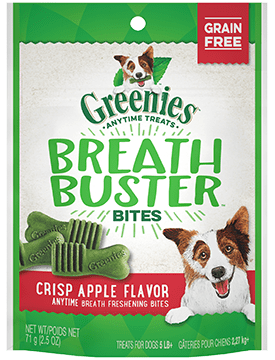 Price Comparison
Updated - Nov 20, 2018
---

Existing Customers
Free Shipping Orders $49+

1.74 + Shipping ($4.95)
$1.16

NEW Customers w/ AutoShip
New Customers w/ Auto-Ship
30% Off + 5% Off / First Time

2.49 + Shipping ($5.95)
$2.24 w/ code

HOT10
Save 10% On Treats
Use Code: HOT10

Free Shipping On Orders 35+

2.49 + Shipping (By Weight)
---

Existing Customers
Free Shipping Orders $49+

4.29 + Shipping ($4.95)
$2.85

NEW Customers w/ AutoShip
New Customers w/ Auto-Ship
30% Off + 5% Off / First Time

4.29 + Shipping ($5.95)
$3.86 w/ code

HOT10
Save 10% On Treats
Use Code: HOT10

Free Shipping On Orders 35+


4.29 + Shipping (By Weight)
---

16.92 + Shipping (By Weight)
Free Shipping On Orders $25+
---

Existing Customers
Free Shipping Orders $49+

8.54 + Shipping ($4.95)
$5.68

NEW Customers w/ AutoShip
New Customers w/ Auto-Ship
30% Off + 5% Off / First Time


Free Shipping On Orders 35+

5.98 + Shipping (By Weight)
Free Shipping On Orders $25+

8.99 + Shipping (By Weight)
---

Existing Customers
Free Shipping Orders $49+

11.17 + Shipping ($4.95)
$7.43

NEW Customers w/ AutoShip
New Customers w/ Auto-Ship
30% Off + 5% Off / First Time

15.99 + Shipping ($5.95)
$14.39 w/ code

HOT10
Save 10% On Treats
Use Code: HOT10


Free Shipping On Orders 35+

11.17 + Shipping (By Weight)
Free Shipping On Orders $25+

15.99 + Shipping (By Weight)
Review of Greenies Breath Buster Bites
Crisp Apple Flavor
Ingredient Review
The first ingredient is pea flour. Pea flour is made from roasted peas which have been processed into a powder. It's naturally rich in protein and dietary fiber.
The second ingredient is gelatin. Gelatin is produced from animal by-products and contains 98% to 99% protein by dry weight. However, gelatin protein is incomplete and lacks many essential amino acids.
Controversial Ingredients
Pea protein is produced by removing the starchy parts of peas. Pea protein is considered controversial because it provides a substantial plant based protein boost. This boost is undesirable because plant based protein is typically lower in biological value when compared to meat based proteins.
Powdered cellulose is produced from minuscule pieces of wood pulp and plant fibers. Other than its fiber content, powdered cellulose lacks any nutritional contribution.