Greenies SmartBites Healthy Skin & Fur Review
Chicken Flavor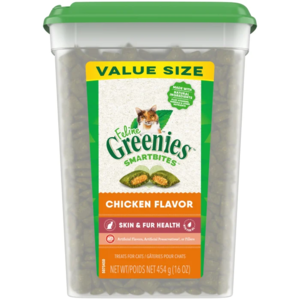 Price Comparison
Updated - Nov 17, 2018
---

Existing Customers
Free Shipping Orders $49+

2.49 + Shipping ($4.95)
$1.66

NEW Customers w/ AutoShip
New Customers w/ Auto-Ship
30% Off + 5% Off / First Time

2.49 + Shipping ($5.95)
$2.24 w/ code

HOT10
Save 10% On Treats
Use Code: HOT10


Free Shipping On Orders 35+

2.49 + Shipping (By Weight)
---

14.59 + Shipping (By Weight)
Review of Greenies SmartBites Healthy Skin & Fur
Chicken Flavor
Ingredient Review
The first ingredient is chicken meal. Chicken meal is produced by cooking chicken using a process called rendering. The rendering process dramatically reduces the natural moisture of chicken and thereby results in a highly condensed protein source.
The second ingredient is brewers rice. Brewer's rice is the small fragments of rice kernel that are separated from the larger kernels of milled rice. The fragments do not contain the same nutrition profile of the whole kernel and therefore brewer's rice is a lower quality grain. Brewer's rice is typically regarded as an inexpensive and low quality filler.
The third ingredient is animal fat (preserved with mixed tocopherols). Animal fat is a by-product of tissue rendering. The source animal is not specific and therefore we cannot be certain that the source does not include diseased animals or even euthanized dogs and cats.
The fourth ingredient is ground whole wheat. Ground whole wheat contains the entire grain of wheat (the germ, bran, and endosperm). Wheat is regarded as an inexpensive and low-quality filler in pet food. However, wheat does provide plant-based protein and makes pet food more affordable for consumers. It's important to note that plant based protein does not provide the same amino acid profile as meat based protein.
The fifth ingredient is animal plasma. Animal plasma can be a nutritious addition to pet food, however, the source should be specified. In this case, the animal source is not specified and therefore we cannot determine which animal was used to obtain the plasma.
Next we have wheat flour. Wheat flour is produced by grinding uncooked wheat into a powder. In addition to dietary fiber, wheat flour provides various vitamins, minerals, and plant based protein.
Wheat is considered a controversial ingredient because of it's protein content. Plant based proteins degrade the overall protein quality in the product. In addition, many people believe wheat is one of the most common ingredients to cause food allergies or intolerance. However, grains such as wheat are typically low offenders in comparison to certain protein sources such as beef.
The next ingredient is fish oil. Fish oil is defined by AAFCO as "the oil from rendering whole fish or cannery waste." It is typically rich in omega-3 fatty acids and therefore a good fat source. However, the specific fish used to obtain the oil is not specified and therefore we cannot make any specific claims.
Then we have natural flavor. Natural flavor enhances the flavor of the product. The difference between natural and artificial flavoring is that natural flavoring starts from a plant or animal whereas artificial flavoring is entirely man-made.