Greenies Dental Treats Review
Savory Salmon Flavor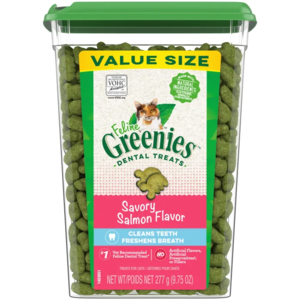 Price Comparison
Updated - Nov 21, 2018
---

Existing Customers
Free Shipping Orders $49+

2.37 + Shipping ($4.95)
$1.58

NEW Customers w/ AutoShip
New Customers w/ Auto-Ship
30% Off + 5% Off / First Time


Free Shipping On Orders 35+

2.79 + Shipping ($6.99)
$2.23 w/ code

AFPAWDIET
20% Off For New Customers
Use Code: AFPAWDIET

2.37 + Shipping (By Weight)
Free Shipping On Orders $25+

2.49 + Shipping (By Weight)
---

5.39 + Shipping (By Weight)
---

15.91 + Shipping ($6.99)
$12.73 w/ code

AFPAWDIET
20% Off For New Customers
Use Code: AFPAWDIET

11.75 + Shipping (By Weight)
---

Existing Customers
Free Shipping Orders $49+

3.49 + Shipping ($4.95)
$2.32

NEW Customers w/ AutoShip
New Customers w/ Auto-Ship
30% Off + 5% Off / First Time

$10 Off + Free Shipping Orders $60+
Use Code: SAVENOW

Free Shipping On Orders 35+


3.49 + Shipping (By Weight)
Free Shipping On Orders $25+

4.99 + Shipping (By Weight)
---

14.59 + Shipping (By Weight)
---

28.99 + Shipping (By Weight)
---

Existing Customers
Free Shipping Orders $49+

6.99 + Shipping ($4.95)
$4.65

NEW Customers w/ AutoShip
New Customers w/ Auto-Ship
30% Off + 5% Off / First Time

$10 Off + Free Shipping Orders $60+
Use Code: SAVENOW


6.99 + Shipping (By Weight)
Free Shipping On Orders $25+

10.00 + Shipping (By Weight)
Review of Greenies Dental Treats
Savory Salmon Flavor
Ingredient Review
The first ingredient is chicken meal. Chicken meal is produced by cooking chicken using a process called rendering. The rendering process dramatically reduces the natural moisture of chicken and thereby results in a highly condensed protein source.
The second ingredient is wheat. Wheat is regarded as an inexpensive and low-quality filler in pet food. However, wheat does provide plant-based protein and makes pet food more affordable for consumers. It's important to note that plant based protein does not provide the same amino acid profile as meat based protein.
The third ingredient is brown rice. Brown rice is naturally rich in fiber and various minerals including manganese, phosphorus, and magnesium. Relative to other grains, brown rice is easy to digest.
The fourth ingredient is corn gluten meal. Corn gluten meal is a by-product from the production of various corn products (corn starch, corn syrup, etc). It's very high in protein (nearly 60% protein) and therefore can significant boost the protein content of the product. Because plant based proteins such as corn gluten meal are inferior to meat based proteins (lack many essential amino acids), they are not suitable substitutes.
The fifth ingredient is poultry fat (preserved with mixed tocopherols). Poultry fat is a by-product of poultry tissue rendering. Poultry fat is a controversial ingredient because the specific protein is not specified. Such ingredients are typically low-quality in comparison to named poultry fats (e.g. chicken fat, turkey fat).
Next we have oat fiber. Oat fiber is a concentrated dietary fiber source. Fiber can help stabilize blood sugar levels and improve or maintain colon health.