Hill's Healthy Advantage Dry Food Review
Adult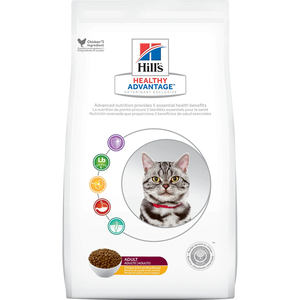 Review of Hill's Healthy Advantage Dry Food
Adult
This product is manufactured by Hill's Pet Nutrition, Inc..
According to our data, this Hill's Healthy Advantage recipe provides complete & balanced nutrition for the maintenance of adult cats. In other words, this formula is AAFCO approved.
Unlike other AAFCO approved cat foods which rely in laboratory testing to substantiate nutritional adequacy, this recipe has undergone feeding trials. In the pet food industry, feeding trials are often considered to be the superior testing method.
Animal feeding tests using AAFCO procedures substantiate that Hill's Healthy Advantage Dry Food Adult provides complete and balanced nutrition for the maintenance of adult cats.
Ingredient Review
We'll begin this review of Hill's Healthy Advantage Dry Food Adult with a detailed discussion of the ingredients.
The first ingredient is chicken, which provides animal-based protein and important omega-6 fatty acids.
The second ingredient is brown rice. Brown rice is naturally rich in fiber and various minerals including manganese, phosphorus, and magnesium. Relative to other grains, brown rice is easy to digest.
The third ingredient is brewers rice. Brewer's rice is the small fragments of rice kernel that are separated from the larger kernels of milled rice. The fragments do not contain the same nutrition profile of the whole kernel and therefore brewer's rice is a lower quality grain. Brewer's rice is typically regarded as an inexpensive and low quality filler.
The fourth ingredient is dried egg product. Dried egg product consists of shell-free eggs which are easy to digest and contain high quality protein. Egg protein is often given the highest biological value (BV). The BV metric measures the usability of the ingredient's protein.
The fifth ingredient is pea protein concentrate. Pea protein concentrate is produced by removing the starchy parts of peas. Pea protein concentrate is considered controversial because it provides a substantial plant based protein boost. This boost is undesirable because plant based protein is typically lower in biological value when compared to meat based proteins.
Because ingredients are listed in order of pre-cooked weight, the remaining ingredients in Hill's Healthy Advantage Dry Food Adult are not as important as the first five ingredients.
However, collectively they still have a significant impact on the overall quality of the product. Therefore, we'll continue discussing the remaining ingredients in this Hill's Healthy Advantage recipe.
Next we have pork fat. Pork fat is typically collected while cooking pork using a process called rendering. Pork fat is a relatively high quality source of essential fatty acids. In particular, pork fat is high in linoleic acid, an important omega-6 fatty acid.
The next ingredient is soybean protein isolate. Soy protein isolate is a highly refined/purified form of soy bean protein. Roughly 90% of soy protein isolate is protein. The inclusion of non-meat protein typically degrades the overall quality of protein in the recipe. This degradation is due to the inferior amino acid profile of plant based proteins.
Then we have chicken meal. Chicken meal is produced by cooking chicken using a process called rendering. The rendering process dramatically reduces the natural moisture of chicken and thereby results in a highly condensed protein source.
Moving on, we have pork protein isolate. According to AAFCO, "Meat Protein Isolate is produced by separating meat protein from fresh, clean, unadulterated bones by heat processing followed by low temperature drying to preserve function and nutrition." Pork protein isolate ingredient contains a minimum of 90% protein, maximum of 1% fat and 2% ash.
Moving on with this review, we have cracked pearled barley. Cracked pearled barley is barley with the outer husk and bran layers removed. Similar to regular barley, cracked pearled barley provides carbohydrates and dietary fiber. Cracked pearled barley is however not as nutritious as regular whole grain barley.
The next ingredient in this review is soybean oil. Soybean oil is an omega-6 fatty acid source. Unlike other oils (flax, canola, etc), soybean oil does not provide omega-3 fatty acids; However, the balancing omega-3 fatty acids are most likely supplied by another oil or fat source in the product.
Our next ingredient is lactic acid, which is an organic compound. Lactic acid is most likely used in this recipe as a preservative.
oat fiber is the next ingredient in this recipe. Oat fiber is a concentrated dietary fiber source. Fiber can help stabilize blood sugar levels and improve or maintain colon health.
Next on the list is oat groats. Oat groats are obtained by removing the inedible outer husk of oats. Unlike other ingredients derived from oats, groats are not processed further and therefore contain the whole grain.
Oat groats provide a notable amount of dietary fiber, B vitamins, and various minerals. Whats more, non-contaminated oats are gluten free; however, oats are typically processed and grown near ingredients which contain gluten and therefore contamination is not unusual. Always check the packaging to ensure the product is gluten free if your pet has allergies to gluten.
The next ingredient in this recipe is natural chicken liver flavor. As the name implies, natural chicken liver flavor provides chicken liver flavor to the product. This particular flavor is derived from natural sources which may or may not include real chicken liver.
Next we have calcium sulfate. Calcium sulfate is a food additive that helps control acidity levels and functions as a firming agent. It's not a desirable ingredient, but it is considered safe by the FDA in small quantities.
The remaining ingredients in this Hill's Healthy Advantage Dry Food recipe are unlikely to affect the overall rating of the product.
Our analysis of the ingredients show that this product derives a substantial amount of protein from non-meat ingredients. This is an undesirable property because plant based protein often lacks many of the necessary amino acids required by cats. This property is typically found in lower quality products.
Final Thoughts
In summary, we recognize that this product does not contain any artificial colors, artificial preservatives, or anonymous meat ingredients.
The official PawDiet rating for Hill's Healthy Advantage Dry Food Adult is 2.0 out of 5.