Hill's Prescription Diet Joint Care j/d Review
With Chicken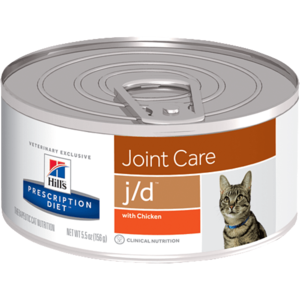 Prescription Diets
Are Not Rated
Price Comparison
Updated - Oct 20, 2018
---

$10 Off + Free Shipping Orders $60+
Use Code: SAVENOW
Review of Hill's Prescription Diet Joint Care j/d
With Chicken
This product is manufactured by Hill's Pet Nutrition, Inc..
According to our data, this Hill's Prescription Diet recipe provides complete & balanced nutrition for the maintenance of adult cats. In other words, this formula is AAFCO approved.
Hill's Prescription Diet Joint Care j/d With Chicken is formulated to meet the nutritional levels established by the AAFCO Cat Food Nutrient Profiles for the maintenance of adult cats.
Ingredient Review
We'll begin this review of Hill's Prescription Diet Joint Care j/d With Chicken with a detailed discussion of the ingredients.
The first ingredient is water, which is a fairly self-explanatory ingredient.
The second ingredient is pork liver. Pork liver is an excellent organ meat which provides high quality protein and fat. In addition, pork liver provides many essential vitamins and minerals.
The third ingredient is pork by-products. By-products are defined by AAFCO as the "non-rendered, clean parts, other than meat, derived from slaughtered mammals." Thus, pork by-products contain nearly all parts of pork which are typically not consumed by humans. These parts include the liver, lung, spleen, kidney, stomach, blood, intestine, bone, etc.
Like other meat by-products, pork by-products are considered controversial, mainly because they are inexpensive ingredients which consumers have equated with slaughterhouse waste. However, manufactures and many experts claim that animal by-products are unjustly criticized. Proponents state that "named" by-products, such as pork by-products, supply many important nutrients required by cats.
The fourth ingredient is chicken. Chicken is the most common meat ingredient used in cat food. It provides high-quality protein and fat. However, more than 60% of chicken is water.
The fifth ingredient is corn starch. Corn starch is derived from the endosperm of the corn kernel. Typically, corn starch is used as a binder in kibble.
Because ingredients are listed in order of pre-cooked weight, the remaining ingredients in Hill's Prescription Diet Joint Care j/d With Chicken are not as important as the first five ingredients.
However, collectively they still have a significant impact on the overall quality of the product. Therefore, we'll continue discussing the remaining ingredients in this Hill's Prescription Diet recipe.
Next we have dried whey. Whey is the liquid which remains after milk has been curdled and strained to manufacture cheese. Dried whey is mostly protein and therefore can significantly boost the reported protein percentage of the recipe.
The next ingredient is powdered cellulose. Powdered cellulose is produced from minuscule pieces of wood pulp and plant fibers. Other than its fiber content, powdered cellulose lacks any nutritional contribution.
Then we have natural chicken liver flavor. As the name implies, natural chicken liver flavor provides chicken liver flavor to the product. This particular flavor is derived from natural sources which may or may not include real chicken liver.
Moving on, we have wheat flour. Wheat flour is produced by grinding uncooked wheat into a powder. In addition to dietary fiber, wheat flour provides various vitamins, minerals, and plant based protein.
Wheat is considered a controversial ingredient because of it's protein content. Plant based proteins degrade the overall protein quality in the product. In addition, many people believe wheat is one of the most common ingredients to cause food allergies or intolerance. However, grains such as wheat are typically low offenders in comparison to certain protein sources such as beef.
Moving on with this review, we have chicken fat. Chicken fat is a relatively good source of linoleic acid, which is an important essential fatty acid.
The next ingredient in this review is fish oil. Fish oil is defined by AAFCO as "the oil from rendering whole fish or cannery waste." It is typically rich in omega-3 fatty acids and therefore a good fat source. However, the specific fish used to obtain the oil is not specified and therefore we cannot make any specific claims.
Our next ingredient is soybean oil. Soybean oil is an omega-6 fatty acid source. Unlike other oils (flax, canola, etc), soybean oil does not provide omega-3 fatty acids; However, the balancing omega-3 fatty acids are most likely supplied by another oil or fat source in the product.
The remaining ingredients in this Hill's Prescription Diet Joint Care j/d recipe are unlikely to affect the overall rating of the product.
Our analysis of the ingredients show that this product derives most of its protein from animal based sources. This is an excellent property because meat based protein contains all of the necessary amino acids required by cats. In our option, this is one of the most important properties to judge when reviewing pet food, therefore we believe this is an exceptional product in this regard.
Final Thoughts
In summary, we recognize that this product does not contain any artificial colors, artificial preservatives, or anonymous meat ingredients.