Hill's Prescription Diet Urinary Care s/d Review
Original Flavor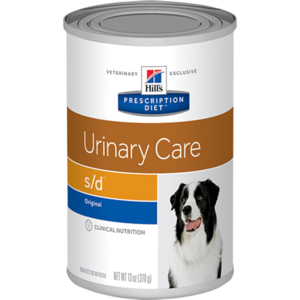 Prescription Diets
Are Not Rated
Price Comparison
Updated - Oct 15, 2018
---

Existing Customers
Free Shipping Orders $49+

37.99 + Shipping ($4.95)
$25.26

NEW Customers w/ AutoShip
New Customers w/ Auto-Ship
30% Off + 5% Off / First Time

$10 Off + Free Shipping Orders $60+
Use Code: SAVENOW

Review of Hill's Prescription Diet Urinary Care s/d
Original Flavor
This product is manufactured by Hill's Pet Nutrition, Inc..
Unfortunately, our team has not been able to confirm that this product meets any AAFCO nutrition profiles. We rely on the companies website to provide this information. However, we were not able to find a nutritional adequacy statement on the company's website. We caution owners from feeding non-AAFCO approved products because these products may not contain all of the nutrients required by your dog.
Ingredient Review
We'll begin this review of Hill's Prescription Diet Urinary Care s/d Original Flavor with a detailed discussion of the ingredients.
The first ingredient is water, which is a fairly self-explanatory ingredient.
The second ingredient is corn starch. Corn starch is derived from the endosperm of the corn kernel. Typically, corn starch is used as a binder in kibble.
The third ingredient is chicken fat. Chicken fat is a relatively good source of linoleic acid, which is an important essential fatty acid.
The fourth ingredient is pork liver. Pork liver is an excellent organ meat which provides high quality protein and fat. In addition, pork liver provides many essential vitamins and minerals.
The fifth ingredient is sugar, which is really an unnecessary additive. It's most likely used to improve the food's palatability.
Because ingredients are listed in order of pre-cooked weight, the remaining ingredients in Hill's Prescription Diet Urinary Care s/d Original Flavor are not as important as the first five ingredients.
However, collectively they still have a significant impact on the overall quality of the product. Therefore, we'll continue discussing the remaining ingredients in this Hill's Prescription Diet recipe.
Next we have egg product. Egg product consists of shell-free eggs which are easy to digest and contain high quality protein. Egg protein is often given the highest biological value (BV). The BV metric measures the usability of the ingredient's protein.
The next ingredient is powdered cellulose. Powdered cellulose is produced from minuscule pieces of wood pulp and plant fibers. Other than its fiber content, powdered cellulose lacks any nutritional contribution.
Then we have iodized salt. Iodized salt is simply table salt mixed with very small amounts of iodine-containing salt. Iodine is an important natural element required by dogs to maintain good health.
Moving on, we have soybean oil. Soybean oil is an omega-6 fatty acid source. Unlike other oils (flax, canola, etc), soybean oil does not provide omega-3 fatty acids; However, the balancing omega-3 fatty acids are most likely supplied by another oil or fat source in the product.
Moving on with this review, we have potassium chloride, which is a potassium supplement.
The next ingredient in this review is calcium carbonate. Calcium carbonate is a naturally occurring mineral supplement. Although it's often used as a dietary calcium supplement, it can also be used as a preservative or color retainer.
Our next ingredient is choline chloride. Choline chloride is member of the B-vitamin complex (vitamin B4).
The remaining ingredients in this Hill's Prescription Diet Urinary Care s/d recipe are unlikely to affect the overall rating of the product.
Our analysis of the ingredients show that this product derives a substantial amount of protein from non-meat ingredients. Since this product is a prescription diet, this property may be required and therefore we cannot make any further statements.
Final Thoughts
In summary, we recognize that this product does not contain any artificial colors, artificial preservatives, or anonymous meat ingredients.