Hill's Science Diet Baked Light Biscuits Review
With Real Chicken - Medium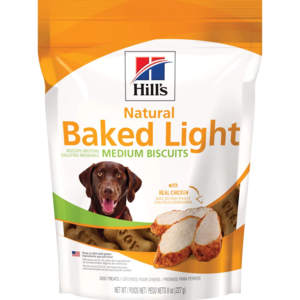 Price Comparison
Updated - Mar 16, 2018
---

4.92 + Shipping ($4.95)

5.19 + Shipping ($5.99)

4.92
+ Shipping (By Weight)
$4.18

w/ coupon
Free Shipping On Orders $25+
Save 15% with this coupon.
Review of Hill's Science Diet Baked Light Biscuits
With Real Chicken - Medium
Ingredient Review
The first ingredient is rice bran. Rice grains can be divided into three components: bran, germ, and endosperm. The bran is the outer layer of the grain. The bran is an excellent fiber source, it also provide all three macronutrients (fat, protein, and carbohydrates) and various vitamins and minerals.
The second ingredient is whole grain wheat. Whole grain wheat contains the entire grain of wheat (the germ, bran, and endosperm). Wheat is the second most-produced cereal grain in the world (corn is the first). Although wheat is a controversial ingredient, it is not necessarily undesirable because it provides dietary fiber and many other nutrients. However, wheat contains a notable amount of plant based protein, which is inferior to meat based protein and therefore an undesirable substitution.
Wheat is also one of the most common ingredients to cause food allergies or intolerance. However, grains such as wheat are typically low offenders in comparison to certain protein sources (such as beef).
The third ingredient is wheat flour. Wheat flour is produced by grinding uncooked wheat into a powder. In addition to dietary fiber, wheat flour provides various vitamins, minerals, and plant based protein.
Wheat is considered a controversial ingredient because of it's protein content. Plant based proteins degrade the overall protein quality in the product. In addition, many people believe wheat is one of the most common ingredients to cause food allergies or intolerance. However, grains such as wheat are typically low offenders in comparison to certain protein sources such as beef.
The fourth ingredient is chicken. Although chicken is an excellent protein source, raw chicken contains more than 60% moisture. After cooking, the relative meat contribution of chicken is dramatically reduced. Therefore, it's important to ensure that other meat sources are included within the first few ingredients to ensure the product derives most of its protein from meat.
The fifth ingredient is potato protein. Potato protein is produced by extracting the starch of potatoes. This process results in a high protein and low ash ingredient called potato protein.
Next we have potato starch. Potato starch is a gluten-free ingredient extracted from potatoes. Unlike whole potatoes, the starch itself does not provide a notable amount of nutrition.
The next ingredient is calcium carbonate. Calcium carbonate is a naturally occurring mineral supplement. Although it's often used as a dietary calcium supplement, it can also be used as a preservative or color retainer.
Then we have natural flavor. Natural flavor enhances the flavor of the product. The difference between natural and artificial flavoring is that natural flavoring starts from a plant or animal whereas artificial flavoring is entirely man-made.
Moving on, we have caramel color. Caramel color is a concentrated form of caramel, a natural food colorant. Caramel color has been linked to cancer in laboratory animals. Since our pets do not care about food color, caramel color is an unnecessary addition with possible health risks.
Moving on with this review, we have chicken fat. Chicken fat is typically collected while cooking chicken using a process called rendering. Chicken fat is a relatively high quality source of essential fatty acids. In particular, chicken fat is high in linoleic acid, an important omega-6 fatty acid.