Hill's Science Diet Grain Free Biscuits Review
With Chicken & Apples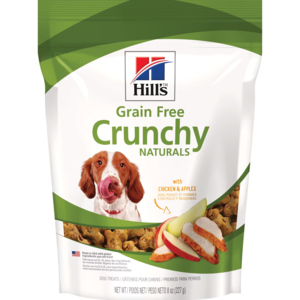 Price Comparison
Updated - Nov 21, 2018
---

Existing Customers
Free Shipping Orders $49+

3.68 + Shipping ($4.95)
$2.45

NEW Customers w/ AutoShip
New Customers w/ Auto-Ship
30% Off + 5% Off / First Time

Free 2-Day Shipping Available
On Orders $35+


Free Shipping On Orders 35+

3.68 + Shipping (By Weight)
Free Shipping On Orders $25+
Review of Hill's Science Diet Grain Free Biscuits
With Chicken & Apples
Ingredient Review
The first ingredient is chicken. Although chicken is an excellent protein source, raw chicken contains more than 60% moisture. After cooking, the relative meat contribution of chicken is dramatically reduced. Therefore, it's important to ensure that other meat sources are included within the first few ingredients to ensure the product derives most of its protein from meat.
The second ingredient is pea. Peas are starchy members of the legume family. Other than carbohydrates, peas are notably high in plant based protein and various vitamins and minerals.
The third ingredient is potato. Potatoes provide a notable amount of dietary fiber, vitamins, minerals, and antioxidants. In addition, potatoes are gluten free and therefore commonly found in grain free and gluten free products.
The fourth ingredient is potato starch. Potato starch is a gluten-free ingredient extracted from potatoes. Unlike whole potatoes, the starch itself does not provide a notable amount of nutrition.
The fifth ingredient is chicken meal. Chicken meal is produced by cooking chicken using a process called rendering. The rendering process dramatically reduces the natural moisture of chicken and thereby results in a highly condensed protein source.
Next we have apple. Apples are high in dietary fiber and provide a modest amount of vitamins and minerals.
The next ingredient is dried beet pulp. Dried beet pulp is the by-product which remains once sugar has been extracted from sugar beets. The primary contribution of beet pulp is dietary fiber.
We'd also like to note that beet pulp is fairly controversial in pet food. Proponents claim that beet pulp can promote intestinal health and regulate blood sugar. However, opponents claim that beet pulp is an inexpensive filler.
Then we have cane molasses. Cane molasses is a less refined form of sugar, made from sugar cane. It's naturally rich in various minerals including magnesium, manganese, iron, calcium, and potassium.
Cane molasses is however considered a controversial ingredient because it can raise a dogs blood sugar level, as it can with humans.
Moving on, we have chicken fat. Chicken fat is typically collected while cooking chicken using a process called rendering. Chicken fat is a relatively high quality source of essential fatty acids. In particular, chicken fat is high in linoleic acid, an important omega-6 fatty acid.
Moving on with this review, we have natural chicken liver flavor. As the name implies, natural chicken liver flavor provides chicken liver flavor to the product. This particular flavor is derived from natural sources which may or may not include real chicken liver.
The next ingredient in this review is caramel color. Caramel color is a concentrated form of caramel, a natural food colorant. Caramel color has been linked to cancer in laboratory animals. Since our pets do not care about food color, caramel color is an unnecessary addition with possible health risks.