Hill's Science Diet Kitten Review
Liver & Chicken Entree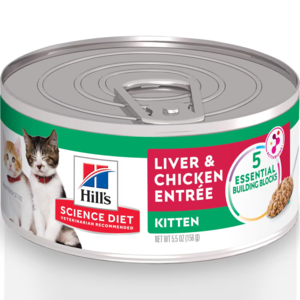 Price Comparison
Updated - Oct 16, 2018
---

Existing Customers
Free Shipping Orders $49+

19.44 + Shipping ($4.95)
$12.93

NEW Customers w/ AutoShip
New Customers w/ Auto-Ship
30% Off + 5% Off / First Time

Free Shipping On Orders 35+


19.44 + Shipping (By Weight)
Free Shipping On Orders $25+
---

Existing Customers
Free Shipping Orders $49+

27.84 + Shipping ($4.95)
$18.51

NEW Customers w/ AutoShip
New Customers w/ Auto-Ship
30% Off + 5% Off / First Time

Free Shipping On Orders $25+

$10 Off + Free Shipping Orders $60+
Use Code: SAVENOW

Review of Hill's Science Diet Kitten
Liver & Chicken Entree
This product is manufactured by Hill's Pet Nutrition, Inc..
According to our data, this Hill's Science Diet recipe provides complete & balanced nutrition for growing kittens and pregnant/nursing cats. In other words, this formula is AAFCO approved.
Hill's Science Diet Kitten Liver and Chicken Entree is formulated to meet the nutritional levels established by the AAFCO Cat Food Nutrient Profiles for growing kittens and pregnant/nursing cats.
Ingredient Review
We'll begin this review of Hill's Science Diet Kitten Liver and Chicken Entree with a detailed discussion of the ingredients.
The first ingredient is water, which increases the food's moisture content.
The second ingredient is pork liver. Pork liver is an excellent organ meat which provides high quality protein and fat. In addition, pork liver provides many essential vitamins and minerals.
The third ingredient is pork by-products. By-products are defined by AAFCO as the "non-rendered, clean parts, other than meat, derived from slaughtered mammals." Thus, pork by-products contain nearly all parts of pork which are typically not consumed by humans. These parts include the liver, lung, spleen, kidney, stomach, blood, intestine, bone, etc.
Like other meat by-products, pork by-products are considered controversial, mainly because they are inexpensive ingredients which consumers have equated with slaughterhouse waste. However, manufactures and many experts claim that animal by-products are unjustly criticized. Proponents state that "named" by-products, such as pork by-products, supply many important nutrients required by cats.
The fourth ingredient is chicken, which provides animal-based protein and important omega-6 fatty acids.
The fifth ingredient is chicken fat. Essentially fatty acids are crucially important for optimal health, chicken fat happens to be an excellent source of omega-6 fatty acids.
Because ingredients are listed in order of pre-cooked weight, the remaining ingredients in Hill's Science Diet Kitten Liver and Chicken Entree are not as important as the first five ingredients.
However, collectively they still have a significant impact on the overall quality of the product. Therefore, we'll continue discussing the remaining ingredients in this Hill's Science Diet recipe.
Next we have egg product. Egg product consists of shell-free eggs which are easy to digest and contain high quality protein. Egg protein is often given the highest biological value (BV). The BV metric measures the usability of the ingredient's protein.
The next ingredient is corn starch. Corn starch is derived from the endosperm of the corn kernel. Typically, corn starch is used as a binder in kibble.
Then we have pork protein isolate. According to AAFCO, "Meat Protein Isolate is produced by separating meat protein from fresh, clean, unadulterated bones by heat processing followed by low temperature drying to preserve function and nutrition." Pork protein isolate ingredient contains a minimum of 90% protein, maximum of 1% fat and 2% ash.
Moving on, we have soybean meal. Soybean meal contains more than 50% protein. Therefore, soybean can significantly boost the protein content of the product. The inclusion of non-meat protein typically degrades the overall quality of protein in the recipe. This degradation is due to the inferior amino acid profile of plant based proteins.
Moving on with this review, we have corn gluten meal. Corn gluten meal is a by-product from the production of various corn products (corn starch, corn syrup, etc). It's very high in protein (nearly 60% protein) and therefore can significant boost the protein content of the product. Because plant based proteins such as corn gluten meal are inferior to meat based proteins (lack many essential amino acids), they are not suitable substitutes.
The next ingredient in this review is natural chicken liver flavor. As the name implies, natural chicken liver flavor provides chicken liver flavor to the product. This particular flavor is derived from natural sources which may or may not include real chicken liver.
Our next ingredient is dicalcium phosphate. Dicalcium phosphate (misnomer for dibasic calcium phosphate) is commonly used in pet food and treats as a dietary calcium supplement. It can also be found in breakfast cereals, enriched flour, noodle products, pharmaceutical tablets, and toothpastes.
fish oil is the next ingredient in this recipe. Fish oil is defined by AAFCO as "the oil from rendering whole fish or cannery waste." It is typically rich in omega-3 fatty acids and therefore a good fat source. However, the specific fish used to obtain the oil is not specified and therefore we cannot make any specific claims.
Next on the list is calcium carbonate. Calcium carbonate is a naturally occurring mineral supplement. Although it's often used as a dietary calcium supplement, it can also be used as a preservative or color retainer.
The remaining ingredients in this Hill's Science Diet Kitten recipe are unlikely to affect the overall rating of the product.
Our analysis of the ingredients show that this product derives most of its protein from animal based sources. This is an excellent property because meat based protein contains all of the necessary amino acids required by cats. In our option, this is one of the most important properties to judge when reviewing pet food, therefore we believe this is an exceptional product in this regard.
Final Thoughts
In summary, we recognize that this product does not contain any artificial colors, artificial preservatives, or anonymous meat ingredients.
The official PawDiet rating for Hill's Science Diet Kitten Liver and Chicken Entree is 2.5 out of 5.